Best 2001 Adventures (10)
By: Joshua Glenn
December 18, 2020
One in a series of 10 posts identifying Josh Glenn's favorite 2001 adventure novels.
*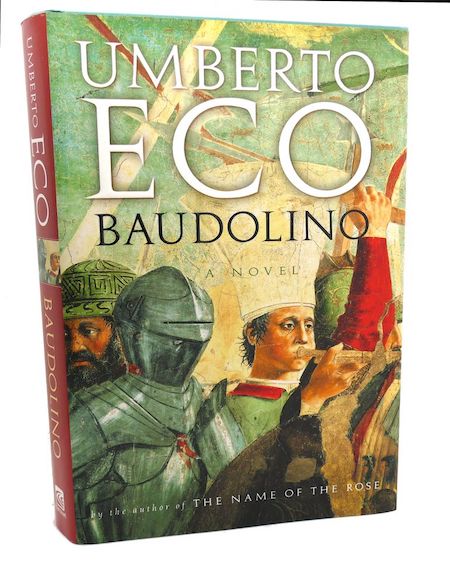 Umberto Eco's historical, metafictional adventure Baudolino.
In the year of 1204, an Italian traveler, Baudolino of Alessandria, saves the life of Niketas Choniates, a (real-life) Greek Byzantine government official and historian of the Eastern Roman Empire. Baudolino is an account of the titular character's tales, told to Choniates, of his exploits in the known and mythical Christian world of the 12th century. Obsessed with the kingdom of Prester John — a Christian nation fabled to be lost amid the pagans and Muslims in the Orient, and full of riches, marvels, and strange creatures — Baudolino claims to have encountered characters both historical (Frederick Barbarossa, the Holy Roman Emperor from 1155 until his death 35 years later; the Old Man of the Mountain, leader of the Syrian branch of the Nizari Isma'ili state, aka the Assassins; Pope Alexander III; the Venerable Bede) and fictional (e.g., a basilisk, a manticore, a chimera, and a unicorn). It's a story about story-telling, with various ingenious aspects, including a locked-room murder mystery involving the death of Barbarossa while hosted at the castle of an Armenian noble. We get a lesson — as per usual, in an Eco adventure — in medieval philosophy and theology, in particular Gnosticism, from a female satyr-like creature with whom Baudolino falls in love. A perplexing, charming, thrilling tall tale that deserves to be better known.
Fun facts: In an interview, Eco elaborated on the differences between this novel and his 1980 medieval thriller The Name of the Rose. "The Rose is cultured, this one is working class. The Rose is high style, this one is low style. The language is that of the peasants of the era or the Parisian students that speak like thieves."
***
JOSH GLENN'S *BEST ADVENTURES* LISTS: BEST 250 ADVENTURES OF THE 20TH CENTURY | 100 BEST OUGHTS ADVENTURES | 100 BEST RADIUM AGE (PROTO-)SCI-FI ADVENTURES | 100 BEST TEENS ADVENTURES | 100 BEST TWENTIES ADVENTURES | 100 BEST THIRTIES ADVENTURES | 75 BEST GOLDEN AGE SCI-FI ADVENTURES | 100 BEST FORTIES ADVENTURES | 100 BEST FIFTIES ADVENTURES | 100 BEST SIXTIES ADVENTURES | 75 BEST NEW WAVE SCI FI ADVENTURES | 100 BEST SEVENTIES ADVENTURES | 100 BEST EIGHTIES ADVENTURES | 75 BEST DIAMOND AGE SCI-FI ADVENTURES | 100 BEST NINETIES ADVENTURES | 75 BEST HADRON AGE SCI-FI ADVENTURES | NOTES ON 21st-CENTURY ADVENTURES.