Best 2000 Adventures (1)
By: Joshua Glenn
November 19, 2020
One in a series of 10 posts identifying Josh Glenn's favorite 2000 adventure novels.
*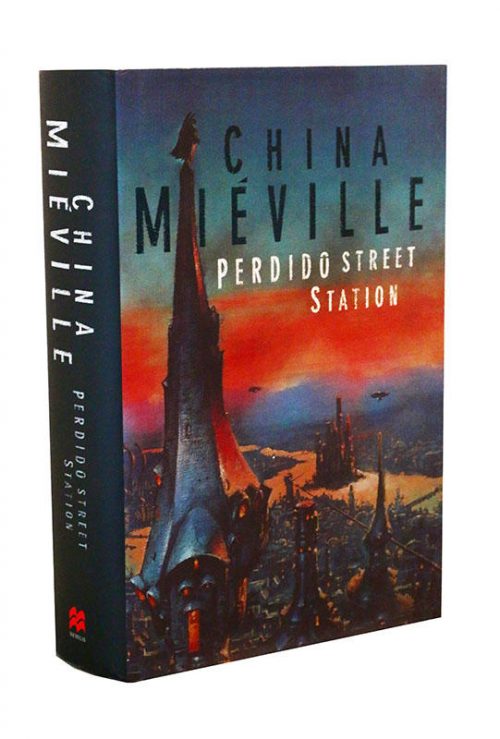 China Miéville's New Crobuzon sci-fi/fantasy adventure Perdido Street Station.
Miéville has said that he hopes to write a novel — a "weird" novel, that is — in every genre. Perdido Street Station already complicates that statement, inasmuch as the first installment in his New Crobuzon series is a hybrid of science fiction, fantasy, and horror. It's also an impressive example of psychogeography and back-projected world-building. Perdido Street Station gives us New Crobuzon, a city-state on the planet Bas-Lag, a D&D-esque world where both thaumaturgy and steampunk technology exist, and in which many intelligent species coexist. From this starting point, Miéville conjectures a history in which some three millennia earlier, entities from another plane of existence ruled the planet for a few centuries… leaving behind technologies and structures (including, perhaps the titular industrial scrapyard, which has a mind of its own) over which today's New Crobuzonites puzzle and scheme. If this reminds you of M. John Harrison's Pastel City (1971), it should; Miéville is a fan. He's also influenced by the original "weird" writers — William Hope Hodgson, Clark Ashton Smith, H.P. Lovecraft — to whose tentacular, cosmic-horror visions he pays homage here. The plot concerns the efforts of Yagharek, a birdlike creature who has had his wings chopped off (hello, Orlando Bloom's character in Carnival Row), to fly again; along the way, he'll transform from a victim into a hero. Isaac Dan der Grimnebulin, a scientist attempting to help Yagharek, inadvertantly creates a Mothra-like monster whose brood terrorizes New Crobuzon; a drug-dealing mob boss kidnaps Isaac's girlfriend, an insect-like humanoid sculptor; and a spider-like creature that moves through dimensions, obsessed with patterns, gets involved, too!
Fun facts: "Perdido Street Station is my attempt to simultaneously say, 'Fuck you' to fantasy, and to say to readers, 'Please read some fantasy,'" Miéville once explained. The 900-page novel won the Arthur C. Clarke Award and the August Derleth Award; the Player's Handbook for the Fifth Edition of Dungeons & Dragons (2014) cited the book as a source of inspiration.
***
JOSH GLENN'S *BEST ADVENTURES* LISTS: BEST 250 ADVENTURES OF THE 20TH CENTURY | 100 BEST OUGHTS ADVENTURES | 100 BEST RADIUM AGE (PROTO-)SCI-FI ADVENTURES | 100 BEST TEENS ADVENTURES | 100 BEST TWENTIES ADVENTURES | 100 BEST THIRTIES ADVENTURES | 75 BEST GOLDEN AGE SCI-FI ADVENTURES | 100 BEST FORTIES ADVENTURES | 100 BEST FIFTIES ADVENTURES | 100 BEST SIXTIES ADVENTURES | 75 BEST NEW WAVE SCI FI ADVENTURES | 100 BEST SEVENTIES ADVENTURES | 100 BEST EIGHTIES ADVENTURES | 75 BEST DIAMOND AGE SCI-FI ADVENTURES | 100 BEST NINETIES ADVENTURES | 75 BEST HADRON AGE SCI-FI ADVENTURES | NOTES ON 21st-CENTURY ADVENTURES.