Best 1996 Adventures (2)
By: Joshua Glenn
September 3, 2020
One in a series of 10 posts identifying Josh Glenn's favorite 1996 adventure novels.
*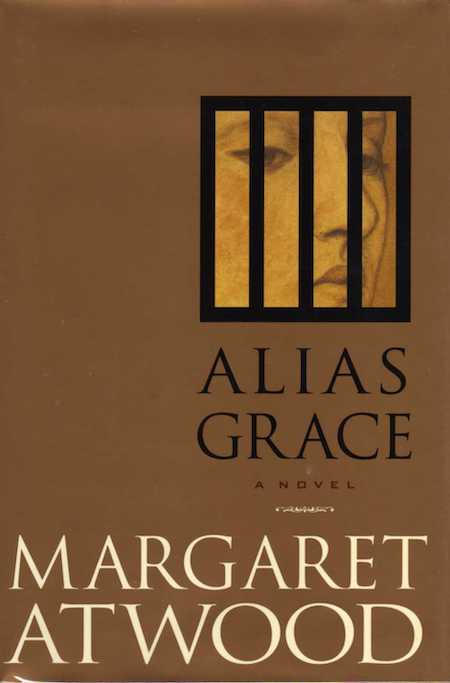 Margaret Atwood's historical psychological thriller Alias Grace.
Written in what's been described as the Southern Ontario Gothic style (think Alice Munro, Robertson Davies), Alias Gracerecounts the true-crime story of Grace Marks — an uncommonly pretty housemaid who in 1843 was convicted for her involvement in the vicious murder of her employer, Thomas Kinnear, and his mistress/housekeeper, Nancy Montgomery. Several years later, Grace — who claims to remember nothing about the incident — is hired as a domestic servant in the home of the penitentiary governor. Dr. Simon Jordan, a young psychiatrist, is called in to interview the notorious woman, in an effort to determine whether she was a murderess or merely an unwilling accomplice. Grace recounts her life story — as a struggling, abused Irish immigrant to Canada — to Jordan, who doesn't see her story as relevant. Jordan, meanwhile, is an eligible bachelor uninterested in the vapid society women into whose company he's forced; he's attracted, instead, to his married landlady… and perhaps to Grace, as well. Atwood's story includes newspaper blurbs, extracts from Grace's written confession, poems, and more. Poverty, servitude, violence, insanity — this is a dark, mesmerizing tale.
Fun facts: Adapted as a 2017 Canadian TV miniseries directed by the great Mary Harron, Alias Grace stars Sarah Gadon as Grace Marks.
***
JOSH GLENN'S *BEST ADVENTURES* LISTS: BEST 250 ADVENTURES OF THE 20TH CENTURY | 100 BEST OUGHTS ADVENTURES | 100 BEST RADIUM AGE (PROTO-)SCI-FI ADVENTURES | 100 BEST TEENS ADVENTURES | 100 BEST TWENTIES ADVENTURES | 100 BEST THIRTIES ADVENTURES | 75 BEST GOLDEN AGE SCI-FI ADVENTURES | 100 BEST FORTIES ADVENTURES | 100 BEST FIFTIES ADVENTURES | 100 BEST SIXTIES ADVENTURES | 75 BEST NEW WAVE SCI FI ADVENTURES | 100 BEST SEVENTIES ADVENTURES | 100 BEST EIGHTIES ADVENTURES | 75 BEST DIAMOND AGE SCI-FI ADVENTURES | 100 BEST NINETIES ADVENTURES | NOTES ON 21st-CENTURY ADVENTURES.