Best 1994 Adventures (7)
By: Joshua Glenn
July 26, 2020
One in a series of 10 posts identifying Josh Glenn's favorite 1994 adventure novels.
*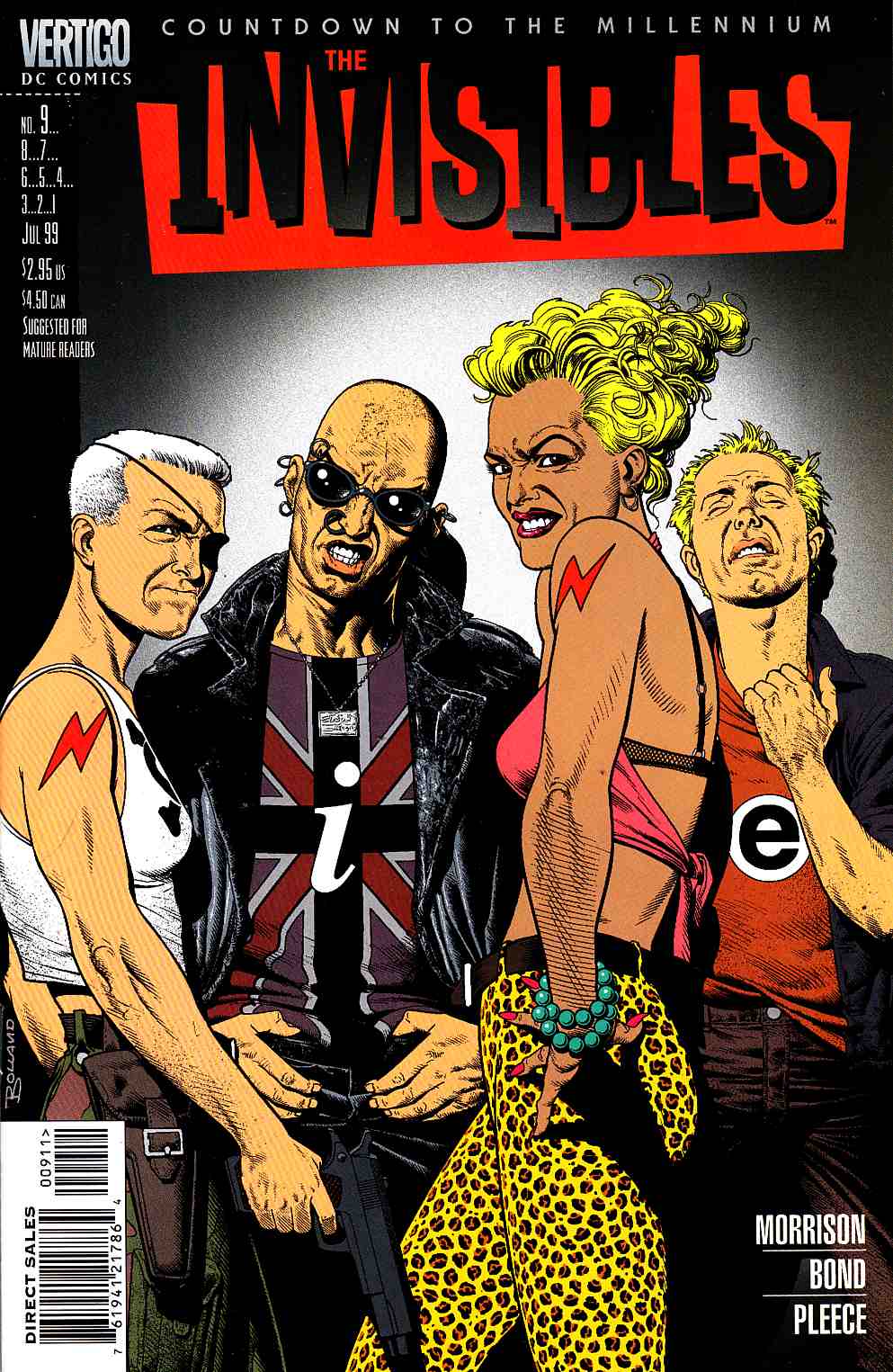 Grant Morrison's comic The Invisibles (serialized 1994–2000).
Scottish comic book writer Grant Morrison is one of the triumvirate of British creatives — along with Alan Moore and Neil Gaiman — whose trippy, subversive, meta-textual sensibilities helped mutate and transform American comics. A self-proclaimed chaos magician, Morrison gave us a world in which objective truth is unknowable, illusion and reality are interchangeable, "bad guys" are good and "good guys" bad. The Invisibles are group of transgressive, libertine, punk freedom fighters led by the Jerry Cornelius-like King Mob; they're part of a larger organization, The Invisible College, which uses time travel, magic, and violence to battle the Archons of the Outer Church, interdimensional alien gods who've persuaded most of us to internalize their oppression. Other characters include: Lord Fanny, a transgender Brazilian shaman; Tom O'Bedlam, a homeless man; Boy, a former New York cop; and Ragged Robin, a telepath. In the first run of stories, the group recruits Jack Frost, a hooligan… who learns that he may be the reincarnation of the Buddha. The references — political, pop-cultural, sub-cultural — come thick and fast. A slow-moving adventure, richly rewarding.
Fun facts: The Vertigo imprint of DC Comics published 59 issues of The Invisibles, in all. Morrison scripted the stories, and various artists illustrated them.
***
JOSH GLENN'S *BEST ADVENTURES* LISTS: BEST 250 ADVENTURES OF THE 20TH CENTURY | 100 BEST OUGHTS ADVENTURES | 100 BEST RADIUM AGE (PROTO-)SCI-FI ADVENTURES | 100 BEST TEENS ADVENTURES | 100 BEST TWENTIES ADVENTURES | 100 BEST THIRTIES ADVENTURES | 75 BEST GOLDEN AGE SCI-FI ADVENTURES | 100 BEST FORTIES ADVENTURES | 100 BEST FIFTIES ADVENTURES | 100 BEST SIXTIES ADVENTURES | 75 BEST NEW WAVE SCI FI ADVENTURES | 100 BEST SEVENTIES ADVENTURES | 100 BEST EIGHTIES ADVENTURES | 75 BEST DIAMOND AGE SCI-FI ADVENTURES | 100 BEST NINETIES ADVENTURES (in progress) | 1994 | 1995 | 1996 | 1997 | 1998 | 1999 | 2000 | 2001 | 2002 | 2003 | NOTES ON 21st-CENTURY ADVENTURES.