Best 1989 Adventures (7)
By: Joshua Glenn
April 21, 2020
One in a series of 10 posts identifying Josh Glenn's favorite 1989 adventure novels.
*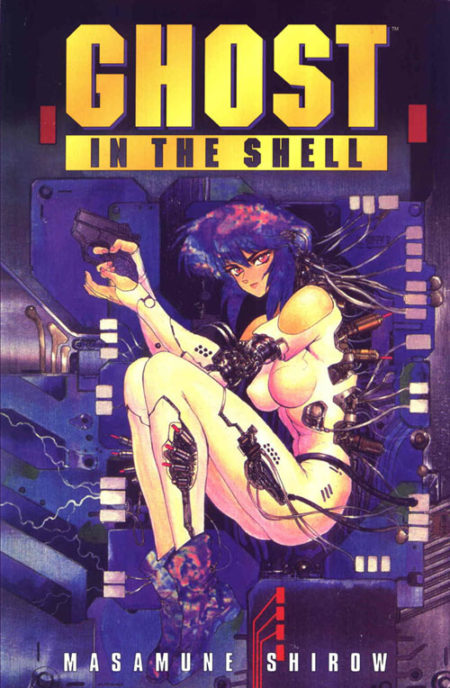 Masamune Shirow's seinen manga sci-fi series 攻殻機動隊 (Mobile Armored Riot Police; in the US: Ghost in the Shell (1989–1990).
Public Security Section 9 is a counter-cybercrime organization, in mid-21st-century New Port City, Japan — led by Major Motoko Kusanagi — a synthetic "full-body prosthesis" augmented-cybernetic human. Thanks to her wetware (a computer user interface implant located in her cranium's suboccipital nerve region), Kusanagi's mind can seamlessly interact with mobile devices, machines, and networks; although her brain is a century old, her prosthetic body is one of the most advanced models on the market. So she's not only the best hacker on her team, which is composed of former police and military types, she's also the toughest; also, because the comic was published by the laddish Japanese manga anthology Weekly Young Magazine, Kusanagi is a slapstick, sexy character (think Tank Girl) fascinated by "human" vices. Villains include the Puppeteer, who has mastered the art of "ghost hacking" people's cyberbrains and forcing them to commit crimes by proxy (and who turns out to be something much worse than a mere crook); as well as neo-noir corrupt officials and sinister corporate types. Shirow's dynamic black and white drawings are simultaneously silly and hardboiled, detailed and gestural; the comic is too grown-up for kids, too child-like for grownups — perfect!
Fun facts: Manga artist-author Masanori Ota's pen name is derived from the legendary sword-smith Masamune. Ghost in the Shell was released in tankōbon (stand-alone) form in 1991; in 1995, Dark Horse serialized the series in English. The 2017 movie adaptation was criticized because it cast Scarlett Johansson in the lead role; also, Evan Narcisse of io9 lamented that the movie version of Kusanagi asks the wrong sort of existential questions about herself.
***
JOSH GLENN'S *BEST ADVENTURES* LISTS: BEST 250 ADVENTURES OF THE 20TH CENTURY | 100 BEST OUGHTS ADVENTURES | 100 BEST RADIUM AGE (PROTO-)SCI-FI ADVENTURES | 100 BEST TEENS ADVENTURES | 100 BEST TWENTIES ADVENTURES | 100 BEST THIRTIES ADVENTURES | 75 BEST GOLDEN AGE SCI-FI ADVENTURES | 100 BEST FORTIES ADVENTURES | 100 BEST FIFTIES ADVENTURES | 100 BEST SIXTIES ADVENTURES | 75 BEST NEW WAVE SCI FI ADVENTURES | 100 BEST SEVENTIES ADVENTURES | 100 BEST EIGHTIES ADVENTURES | 75 BEST DIAMOND AGE SCI-FI ADVENTURES | 100 BEST NINETIES ADVENTURES (in progress) | 1994 | 1995 | 1996 | 1997 | 1998 | 1999 | 2000 | 2001 | 2002 | 2003 | NOTES ON 21st-CENTURY ADVENTURES.