Best 1949 Adventures (1)
By: Joshua Glenn
July 26, 2019
One in a series of 10 posts identifying Josh Glenn's favorite 1949 adventure novels.
*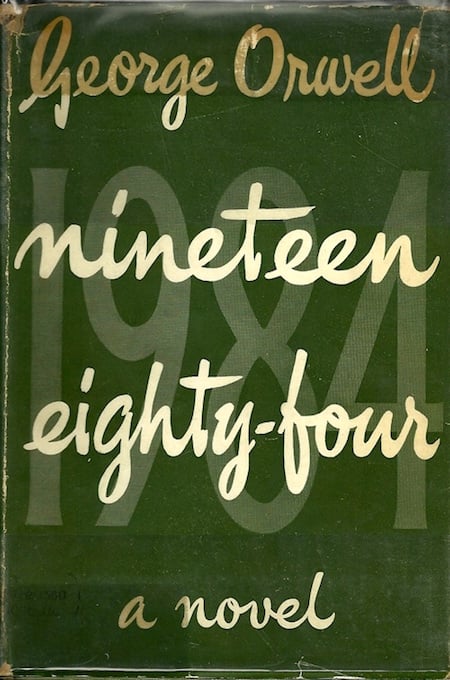 George Orwell's Golden Age sci-fi adventure Nineteen Eighty-Four.
Winston Smith, a low-ranking functionary at the Ministry of Truth, whose job involves altering old newspaper articles to agree with the officially approved version of history, lives in London, which has become a regional capital of the superstate Oceania. (English Socialism is the state's ruling doctrine, and its nominal leader — whom the average citizen is encouraged to fear and revere — is known as Big Brother. Oceania is perpetually at war with one of the other two superstates.) The Thought Police ferret out "thoughtcrime"; everyone's behavior is monitored constantly, via two-way telescreens. Winston starts an illegal affair with Julia, and befriends O'Brien — both of whom are fellow malcontents. Winston and Julia are apprehended by the Thought Police: Will their love, idealism, and critical thinking survive, or will they crack? One of the most famous works of science fiction, and one of the most esteemed novels of the 20th century, Nineteen Eighty-Four has given us such terms as Big Brother, doublethink, and thoughtcrime; and a real-life or fictional political order characterized by official deception is often described as Orwellian.
Fun facts: Orwell (Eric Blair) had been brooding over the themes of dictatorship and the possibilities of mass manipulation through language since the Spanish Civil War. He was influenced not only by Yevgeny Zamyatin's Radium Age sci-fi novel We, but by the Tehran Conference of 1944, at which he saw Stalin, Churchill, and Roosevelt carving up the world in anticipation of the defeat of Germany. He died in 1950, shortly after Nineteen Eighty-Four was published.
***
JOSH GLENN'S *BEST ADVENTURES* LISTS: BEST 250 ADVENTURES OF THE 20TH CENTURY | 100 BEST OUGHTS ADVENTURES | 100 BEST RADIUM AGE (PROTO-)SCI-FI ADVENTURES | 100 BEST TEENS ADVENTURES | 100 BEST TWENTIES ADVENTURES | 100 BEST THIRTIES ADVENTURES | 75 BEST GOLDEN AGE SCI-FI ADVENTURES | 100 BEST FORTIES ADVENTURES | 100 BEST FIFTIES ADVENTURES | 100 BEST SIXTIES ADVENTURES | 75 BEST NEW WAVE SCI FI ADVENTURES | 100 BEST SEVENTIES ADVENTURES | 100 BEST EIGHTIES ADVENTURES | 75 BEST DIAMOND AGE SCI-FI ADVENTURES | 100 BEST NINETIES ADVENTURES (in progress) | 1994 | 1995 | 1996 | 1997 | 1998 | 1999 | 2000 | 2001 | 2002 | 2003 | NOTES ON 21st-CENTURY ADVENTURES.