Best 1909 Adventures (7)
By: Joshua Glenn
March 8, 2019
One in a series of 10 posts identifying Josh Glenn's favorite 1909 adventure novels. Happy 110th anniversary!
*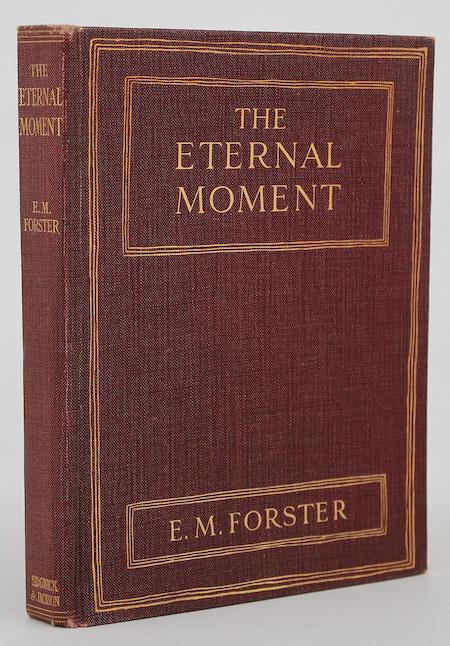 E.M. Forster's Radium Age sci-fi adventure The Machine Stops.
Written as a riposte to H.G. Wells's 1899 technocratic utopia When the Sleeper Wakes, in which Londoners live in a multi-tiered underground society, connected by a vast rail network, Forster's short novella The Machine Stops takes place in a future civilization in which the outdoors is all but uninhabited. A "Machine" supplies each inhabitant of this global civilization with everything he or she might desire — to a degree where, at this point, few people ever leave their well-appointed apartments. Socialization and entertainment are entirely mediated via the Machine: yes, Forster helped predict the Internet. Who programs the Machine? It's unclear. In fact, most people are programmed by the Machine. When one courageous individual, Kuno, briefly visits the outside world, he's shunned by his own mother. Later, when the Machine begins to break down, the inhabitants of this utopian society are utterly helpless. The 2008 Pixar movie WALL·E — in which humanity has grown fat and sessile thanks to automated systems that serve their every need; and in which those systems break down — offers a happy-ending version of the same parable.
Fun fact: This novella was first published in The Oxford and Cambridge Review (November 1909). It was written at the height of the author's powers: between A Room With A View and Howards End. It was published in book form in 1928, as part of the collection The Eternal Moment and Other Stories. Serialized here at HILOBROW.
***
JOSH GLENN'S *BEST ADVENTURES* LISTS: BEST 250 ADVENTURES OF THE 20TH CENTURY | 100 BEST OUGHTS ADVENTURES | 100 BEST RADIUM AGE (PROTO-)SCI-FI ADVENTURES | 100 BEST TEENS ADVENTURES | 100 BEST TWENTIES ADVENTURES | 100 BEST THIRTIES ADVENTURES | 75 BEST GOLDEN AGE SCI-FI ADVENTURES | 100 BEST FORTIES ADVENTURES | 100 BEST FIFTIES ADVENTURES | 100 BEST SIXTIES ADVENTURES | 75 BEST NEW WAVE SCI FI ADVENTURES | 100 BEST SEVENTIES ADVENTURES | 100 BEST EIGHTIES ADVENTURES | 75 BEST DIAMOND AGE SCI-FI ADVENTURES | 100 BEST NINETIES ADVENTURES (in progress) | 1994 | 1995 | 1996 | 1997 | 1998 | 1999 | 2000 | 2001 | 2002 | 2003 | NOTES ON 21st-CENTURY ADVENTURES.