Best 1983 Adventures (10)
By: Joshua Glenn
November 15, 2018
One in a series of 10 posts identifying Josh Glenn's favorite 1983 adventure novels. Happy 35th anniversary!
*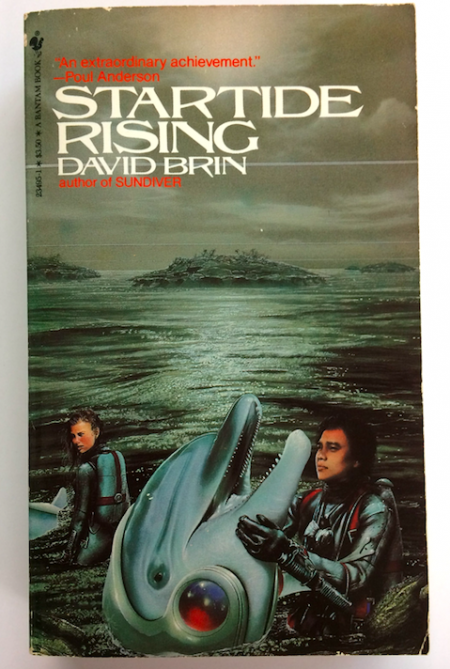 David Brin's Uplift Saga sci-fi adventure Startide Rising.
Science fiction fought its way to mainstream credibility from the 1950s through the 1970s, only to blow it in the '80s, thanks to goofy concepts like this: dolphins in space! Even some of Brin's dolphin characters find the very idea ridiculous. But… when I finally got around to reading Startide Rising, I couldn't put it down. A spaceship from Earth, captained and crewed by artificially evolved and augmented ("uplifted") dolphins, plus a few humans, discovers something — an ancient-astronaut MacGuffin — that incites a horde of fanatical, much more powerful extraterrestrial races, to pursue them to a remote, supposedly uninhabited planet. While there, some of the dolphin astronauts begin to devolve — and mutiny; meanwhile, other crew members discover that the planet is not what it seems to be. The action is exciting, the (many) characters well-realized, the dolphins' speech-patterns are interesting… plus, the nail-biting action takes place against an epic compelling, violent, Dune-like backdrop of galactic political intrigue.
Fun facts: The second of six books in the Uplift series, Startide Rising won both the Hugo and Nebula Awards for Best Novel. I suspect that Brin's "Batteau breather mask" is a shout-out to Dwight "Wayne" Batteau, who in the 1960s attempted to develop a Man/Dolphin Communicator.
***
JOSH GLENN'S *BEST ADVENTURES* LISTS: BEST 250 ADVENTURES OF THE 20TH CENTURY | 100 BEST OUGHTS ADVENTURES | 100 BEST RADIUM AGE (PROTO-)SCI-FI ADVENTURES | 100 BEST TEENS ADVENTURES | 100 BEST TWENTIES ADVENTURES | 100 BEST THIRTIES ADVENTURES | 75 BEST GOLDEN AGE SCI-FI ADVENTURES | 100 BEST FORTIES ADVENTURES | 100 BEST FIFTIES ADVENTURES | 100 BEST SIXTIES ADVENTURES | 75 BEST NEW WAVE SCI FI ADVENTURES | 100 BEST SEVENTIES ADVENTURES | 100 BEST EIGHTIES ADVENTURES | 75 BEST DIAMOND AGE SCI-FI ADVENTURES | 100 BEST NINETIES ADVENTURES (in progress) | 1994 | 1995 | 1996 | 1997 | 1998 | 1999 | 2000 | 2001 | 2002 | 2003 | NOTES ON 21st-CENTURY ADVENTURES.