Best 1978 Adventures (9)
By: Joshua Glenn
October 29, 2018
One in a series of 10 posts identifying Josh Glenn's favorite 1978 adventure novels. Happy 40th anniversary!
*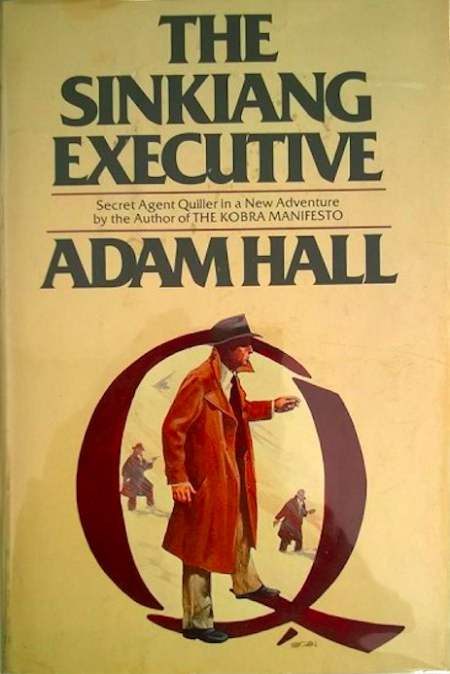 Adam Hall's Quiller espionage adventure The Sinkiang Executive.
Quiller is an "executive" for a covert-ops agency known (to only the highest members of the British government) as the Bureau. He is unusual, as fictional secret agents go; in previous books, we've learned that although he is very good at what he does, he dislikes using firearms… and loathes going on missions. In his eighth outing, Quiller is first fired — for having murdered a Russian agent who'd killed a woman with whom he was sleeping — then re-employed, by the Bureau, as a volunteer, and sent on what appears to be a suicide mission. If you like technical details about fighter jets, you'll love the extended training sequence in which Quiller — a trained jet pilot — learns to fly a captured Russian Mig-28D fighter. The story kicks into high gear, after that, with Quiller flying into Soviet airspace and allowing himself to be shot down; the narration switches to a first person stream-of-consciousness style that keeps us on the edge of our seats. What is Quiller's mission, exactly? We don't find out until near the very end.
Fun facts: Elleston Trevor, author of the 1964 thriller The Flight of the Phoenix, wrote nearly 20 Quiller adventures (as "Adam Hall"), including The Berlin Memorandum (1965), which was adapted as the 1966 movie The Quiller Memorandum, starring George Segal and Alec Guinness.
***
JOSH GLENN'S *BEST ADVENTURES* LISTS: BEST 250 ADVENTURES OF THE 20TH CENTURY | 100 BEST OUGHTS ADVENTURES | 100 BEST RADIUM AGE (PROTO-)SCI-FI ADVENTURES | 100 BEST TEENS ADVENTURES | 100 BEST TWENTIES ADVENTURES | 100 BEST THIRTIES ADVENTURES | 75 BEST GOLDEN AGE SCI-FI ADVENTURES | 100 BEST FORTIES ADVENTURES | 100 BEST FIFTIES ADVENTURES | 100 BEST SIXTIES ADVENTURES | 75 BEST NEW WAVE SCI FI ADVENTURES | 100 BEST SEVENTIES ADVENTURES | 100 BEST EIGHTIES ADVENTURES | 75 BEST DIAMOND AGE SCI-FI ADVENTURES | 100 BEST NINETIES ADVENTURES (in progress) | 1994 | 1995 | 1996 | 1997 | 1998 | 1999 | 2000 | 2001 | 2002 | 2003 | NOTES ON 21st-CENTURY ADVENTURES.