Best 1978 Adventures (4)
By: Joshua Glenn
October 24, 2018
One in a series of 10 posts identifying Josh Glenn's favorite 1978 adventure novels. Happy 40th anniversary!
*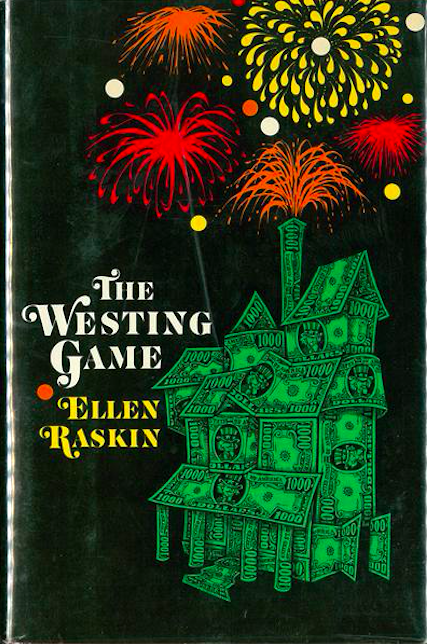 Ellen Raskin's YA crime adventure The Westing Game.
A cult classic — one whose plot is exceedingly difficult to describe without actually recounting the entire story word-for-word. Here's how it begins, anyway: Sam Westing, a reclusive businessman, has been killed. In his will, he names sixteen heirs — all of whom have recently been selected to live in a new apartment building on Lake Michigan, not far from Westing's mansion. The will is a puzzle containing clues to the secret of Westing's death; in order to inherit his $200 million fortune (and control of his company), Westing's heirs must split up into apparently random pairs and solve the puzzle. The heirs are a colorful, oddball bunch, including: a Jewish podiatrist and bookie, his self-centered wife, his beautiful daughter and her fiancé, and his brilliant 13-year-old daughter, Turtle; a Chinese-American restaurateur, his immigrant wife, and his track-star son; a female African-American judge; a shy older dress-maker; a highly observant 15-year-old boy in a wheelchair; a cleaning woman and a doorman in the new apartment building. Some of these characters have unexpected connections to Westing, others do not. What is the point of Westing's game? And who keeps setting off bombs?
Fun facts: Winner of the Newbery Medal, and ranked one of the ten all-time best children's novels, by a 2012 School Library Journal survey. Adapted in 1997 as a movie titled Get a Clue.
***
JOSH GLENN'S *BEST ADVENTURES* LISTS: BEST 250 ADVENTURES OF THE 20TH CENTURY | 100 BEST OUGHTS ADVENTURES | 100 BEST RADIUM AGE (PROTO-)SCI-FI ADVENTURES | 100 BEST TEENS ADVENTURES | 100 BEST TWENTIES ADVENTURES | 100 BEST THIRTIES ADVENTURES | 75 BEST GOLDEN AGE SCI-FI ADVENTURES | 100 BEST FORTIES ADVENTURES | 100 BEST FIFTIES ADVENTURES | 100 BEST SIXTIES ADVENTURES | 75 BEST NEW WAVE SCI FI ADVENTURES | 100 BEST SEVENTIES ADVENTURES | 100 BEST EIGHTIES ADVENTURES | 75 BEST DIAMOND AGE SCI-FI ADVENTURES | 100 BEST NINETIES ADVENTURES (in progress) | 1994 | 1995 | 1996 | 1997 | 1998 | 1999 | 2000 | 2001 | 2002 | 2003 | NOTES ON 21st-CENTURY ADVENTURES.