Best 1973 Adventures (10)
By: Joshua Glenn
October 15, 2018
One in a series of 10 posts identifying Josh Glenn's favorite 1973 adventure novels. Happy 45th anniversary!
*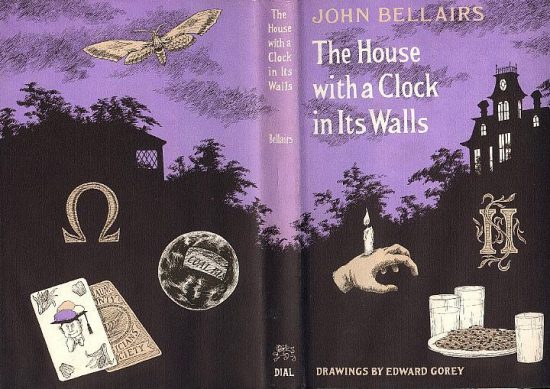 John Bellairs's children's gothic horror adventure The House with a Clock in Its Walls.
In the first of his many adventures, the recently orphaned Lewis Barnavelt moves in with his uncle, Jonathan, in a small Michigan town. Jonathan, a well-intentioned but not particularly powerful warlock, lives in a house formerly inhabited by Isaac and Selenna Izard, evil sorcerors who'd plotted to bring about the end of time. Before they died, Isaac had constructed a magical clock — hidden in the house's walls — that ticks away as it attempts to pull the world as we know it towards its doom. In an effort to impress a new friend by demonstrating how to raise the dead, Lewis accidentally releases Selenna from her tomb; he must then enlist his uncle's help — and that of their neighbor, Florence Zimmermann, a far more powerful good witch — in order to prevent Selenna from completing her husband's dastardly work!
Fun facts: The book, which was illustrated by Edward Gorey, was adapted into the 2018 Eli Roth film — starring Jack Black and Cate Blanchett — of the same name. Bellairs wrote subsequent Lewis Barnavelt adventures, including: The Figure in the Shadows (1975) and The Letter, The Witch, and The Ring (1976); other adventures in the same series were completed or written after his death.
***
JOSH GLENN'S *BEST ADVENTURES* LISTS: BEST 250 ADVENTURES OF THE 20TH CENTURY | 100 BEST OUGHTS ADVENTURES | 100 BEST RADIUM AGE (PROTO-)SCI-FI ADVENTURES | 100 BEST TEENS ADVENTURES | 100 BEST TWENTIES ADVENTURES | 100 BEST THIRTIES ADVENTURES | 75 BEST GOLDEN AGE SCI-FI ADVENTURES | 100 BEST FORTIES ADVENTURES | 100 BEST FIFTIES ADVENTURES | 100 BEST SIXTIES ADVENTURES | 75 BEST NEW WAVE SCI FI ADVENTURES | 100 BEST SEVENTIES ADVENTURES | 100 BEST EIGHTIES ADVENTURES | 75 BEST DIAMOND AGE SCI-FI ADVENTURES | 100 BEST NINETIES ADVENTURES (in progress) | 1994 | 1995 | 1996 | 1997 | 1998 | 1999 | 2000 | 2001 | 2002 | 2003 | NOTES ON 21st-CENTURY ADVENTURES.