Best 1973 Adventures (9)
By: Joshua Glenn
October 13, 2018
One in a series of 10 posts identifying Josh Glenn's favorite 1973 adventure novels. Happy 45th anniversary!
*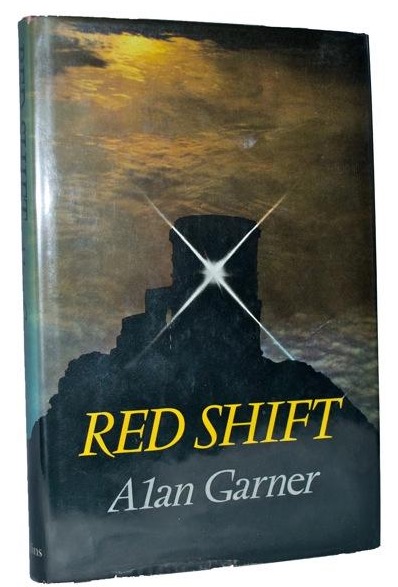 Alan Garner's YA fantasy adventure Red Shift.
In what is perhaps his formally most ambitious work, here Garner — author of the classic children's and YA fantasy novels The Weirdstone of Brisingamen (1960), The Moon of Gomrath (1963), Elidor (1965), and The Owl Service (1967) — depicts a present-day England overlaid by a disintegrating (Vietnam War-like) Roman Britain. In fact, we're reading three intertwined love stories, only one of which is set in the present. Tom, an unhappy teenaager, lives in a caravan park in Rudheath with his parents; as he loses his grip on reality, the story's protagonist becomes Macey, a soldier in Roman Britain who, when berserk, fights with an old stone axe. Macy and his fellow deserters kidnap a local tribe's corn goddess; and eventually get their comeuppance. Thomas Rowley, meanwhile, finds Macey's axe head in a burial mound during the English Civil War; when their town is attacked by Royalist troops, Rowley and his wife flee to a new home — where they embed the axe head in the chimney. In the present day, Tom and his girlfriend find the axe head — will it bring them good fortune? Or disaster? Themes, visual descriptions and lines of dialogue echo throughout the text.
Fun facts: Garner spent six years working on Red Shift, which he claimed was partially inspired by the Scottish legend of Tam Lin — where a boy kidnapped by fairies is rescued by his true love. David Mitchell's Cloud Atlas was likely inspired by Red Shift; at any rate, Mitchell has called Garner one of his favorite fantasy authors.
***
JOSH GLENN'S *BEST ADVENTURES* LISTS: BEST 250 ADVENTURES OF THE 20TH CENTURY | 100 BEST OUGHTS ADVENTURES | 100 BEST RADIUM AGE (PROTO-)SCI-FI ADVENTURES | 100 BEST TEENS ADVENTURES | 100 BEST TWENTIES ADVENTURES | 100 BEST THIRTIES ADVENTURES | 75 BEST GOLDEN AGE SCI-FI ADVENTURES | 100 BEST FORTIES ADVENTURES | 100 BEST FIFTIES ADVENTURES | 100 BEST SIXTIES ADVENTURES | 75 BEST NEW WAVE SCI FI ADVENTURES | 100 BEST SEVENTIES ADVENTURES | 100 BEST EIGHTIES ADVENTURES | 75 BEST DIAMOND AGE SCI-FI ADVENTURES | 100 BEST NINETIES ADVENTURES (in progress) | 1994 | 1995 | 1996 | 1997 | 1998 | 1999 | 2000 | 2001 | 2002 | 2003 | NOTES ON 21st-CENTURY ADVENTURES.