Best 1973 Adventures (4)
By: Joshua Glenn
October 8, 2018
One in a series of 10 posts identifying Josh Glenn's favorite 1973 adventure novels. Happy 45th anniversary!
*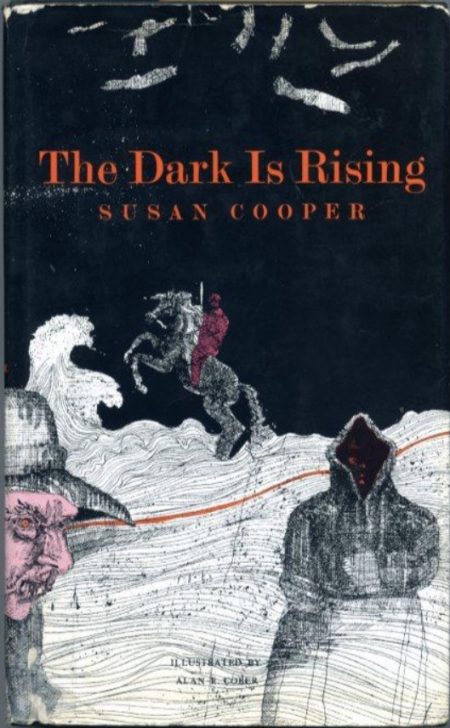 Susan Cooper's YA fantasy adventure The Dark is Rising.
On the Venn diagram showing admirers of Susan Cooper's Dark is Rising sequence and fans of J.K. Rowling's Harry Potter series, I suspect there is little overlap — this, despite the fact that both feature a young English hero who discovers his magical abilities, then undertakes perilous quests in search of artifacts that will assist a rag-tag band of good wizards and witches facing the growing menace of supernatural evil. Cooper's prose is superior to Rowling's, but her stories are grimmer. In this installment, we meet Will Stanton, who until the eve of his eleventh birthday believes that he's an ordinary kid. In fact, he's an Old One — an immortal being who task it is to serve the Light, and protect the world from the Dark. In later installments, Will will join forces with the Drew siblings (whom we met in 1965's Over Sea, Under Stone); here, he must travel through time seeking six magical talismans. He is assisted by Merriman, a decidedly un-Dumbledore-like mentor-wizard, and menaced by a sinister Rider and a mad Walker — not to mention a Hunter who represents neither Light nor Dark but wild magic. The mythological sub-strata can be a bit much, at times; and there isn't a lot of swashbuckling action… or wizard battles, even. But it's a marvelous, gorgeous tale — one of my favorite YA fantasy novels of all time.
Fun facts: The Dark Is Rising sequence continues with Greenwitch (1974), The Grey King (1975), and Silver on the Tree (1977). The 2007 film adaptation of The Dark Is Rising (US title: The Seeker), directed by David L. Cunningham, is a disappointment.
***
JOSH GLENN'S *BEST ADVENTURES* LISTS: BEST 250 ADVENTURES OF THE 20TH CENTURY | 100 BEST OUGHTS ADVENTURES | 100 BEST RADIUM AGE (PROTO-)SCI-FI ADVENTURES | 100 BEST TEENS ADVENTURES | 100 BEST TWENTIES ADVENTURES | 100 BEST THIRTIES ADVENTURES | 75 BEST GOLDEN AGE SCI-FI ADVENTURES | 100 BEST FORTIES ADVENTURES | 100 BEST FIFTIES ADVENTURES | 100 BEST SIXTIES ADVENTURES | 75 BEST NEW WAVE SCI FI ADVENTURES | 100 BEST SEVENTIES ADVENTURES | 100 BEST EIGHTIES ADVENTURES | 75 BEST DIAMOND AGE SCI-FI ADVENTURES | 100 BEST NINETIES ADVENTURES (in progress) | 1994 | 1995 | 1996 | 1997 | 1998 | 1999 | 2000 | 2001 | 2002 | 2003 | NOTES ON 21st-CENTURY ADVENTURES.