Best 1963 Adventures (9)
By: Joshua Glenn
September 18, 2018
One in a series of 10 posts identifying Josh Glenn's favorite 1963 adventure novels. Happy 55th anniversary!
*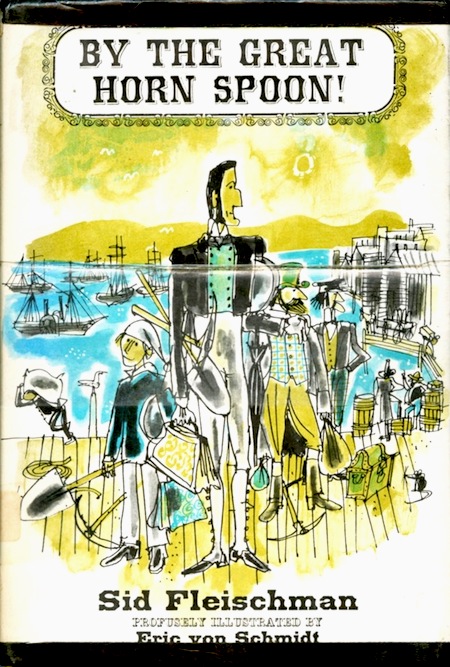 Sid Fleischman's YA historical adventure By the Great Horn Spoon!.
Yet another terrific kids' adventure spoiled by teachers who forced students to read it because it's "educational." Twelve-year-old Jack runs away from Boston, during the California Gold Rush of 1848–55, to seek his fortune in the west; his family's English butler, Praiseworthy, tags along. They stow away on a steamship, during which they encounter the novel's villain, Cut-Eye Higgins, and manage to foil one of his schemes. Unfortunately, Higgins escapes with another passenger's map leading to a rich gold mine. In San Francisco, the greenhorns are befriended by colorful miners with monikers like Quartz Jackson and Pitch-pine Bill; equipped with mining gear, they head out to the diggings. No matter where they find themselves, Jack and Praiseworthy distinguish themselves by their keen analytic minds, hard work, and honesty; Praiseworthy also becomes known as something of a tough guy, who is renamed "Bullwhip" by their miner friends. Like all of Fleischman's terrific picaresques from around this time — Mr. Mysterious & Company (1962), Chancy and the Grand Rascal (1966), Jingo Django (1971) — the characters are vividly dimensionalized, the language is terrific, and the historical contexts are brought to life in amusing — not educational, ugh — detail. In the end, will Jack and Bullwhip make their fortunes and return to staid, stuffy Boston? No!
Fun facts: Adapted as a 1967 Western comedy film, The Adventures of Bullwhip Griffin, by James Neilson. Roddy McDowall plays the titular character.
***
JOSH GLENN'S *BEST ADVENTURES* LISTS: BEST 250 ADVENTURES OF THE 20TH CENTURY | 100 BEST OUGHTS ADVENTURES | 100 BEST RADIUM AGE (PROTO-)SCI-FI ADVENTURES | 100 BEST TEENS ADVENTURES | 100 BEST TWENTIES ADVENTURES | 100 BEST THIRTIES ADVENTURES | 75 BEST GOLDEN AGE SCI-FI ADVENTURES | 100 BEST FORTIES ADVENTURES | 100 BEST FIFTIES ADVENTURES | 100 BEST SIXTIES ADVENTURES | 75 BEST NEW WAVE SCI FI ADVENTURES | 100 BEST SEVENTIES ADVENTURES | 100 BEST EIGHTIES ADVENTURES | 75 BEST DIAMOND AGE SCI-FI ADVENTURES | 100 BEST NINETIES ADVENTURES (in progress) | 1994 | 1995 | 1996 | 1997 | 1998 | 1999 | 2000 | 2001 | 2002 | 2003 | NOTES ON 21st-CENTURY ADVENTURES.