Best 1963 Adventures (5)
By: Joshua Glenn
September 13, 2018
One in a series of 10 posts identifying Josh Glenn's favorite 1963 adventure novels. Happy 55th anniversary!
*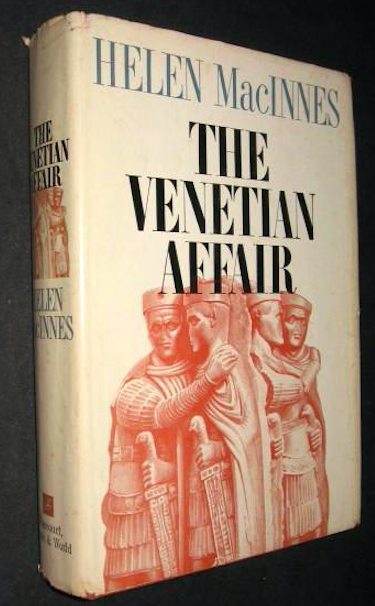 Helen MacInnes's romantic espionage adventure The Venetian Affair.
The Soviet Union is plotting to sow discord within NATO, and undermine Americans' trust in their own government — a very timely plot point, wouldn't you say? Some readers prefer the first half of The Venetian Affair, set in Paris, during which Bill Fenner, a newspaper theater critic with an interesting past, stumbles upon the Soviet plot. He also keeps running into Claire Langley, another talented amateur, who joins him in his effort to derail it. Their dialogue is witty, the setting is romantic, and there aren't many secrets left to reveal about the conspiracy (which has to do with an assassination) by the time we reach the novel's midpoint… which takes place on a train to Venice. From this point on, it's all action — set in Venice, including on a gondola or two. The POV shifts between characters throughout, which is entertaining. Many cigarettes are smoked; locations are described with colorful exactitude. The villain is a master of disguise; and Bill and Claire — collaborating with the CIA, British Intelligence, and the French police — can't trust anyone they encounter. Including Bill's glamorous ex-wife!
Fun facts: Adapted into a 1967 film starring Robert Vaughn and Elke Sommer — which, despite the best efforts of Ed Asner and Boris Karloff — is pretty much inane.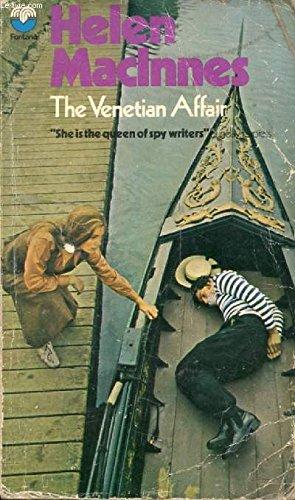 ***
JOSH GLENN'S *BEST ADVENTURES* LISTS: BEST 250 ADVENTURES OF THE 20TH CENTURY | 100 BEST OUGHTS ADVENTURES | 100 BEST RADIUM AGE (PROTO-)SCI-FI ADVENTURES | 100 BEST TEENS ADVENTURES | 100 BEST TWENTIES ADVENTURES | 100 BEST THIRTIES ADVENTURES | 75 BEST GOLDEN AGE SCI-FI ADVENTURES | 100 BEST FORTIES ADVENTURES | 100 BEST FIFTIES ADVENTURES | 100 BEST SIXTIES ADVENTURES | 75 BEST NEW WAVE SCI FI ADVENTURES | 100 BEST SEVENTIES ADVENTURES | 100 BEST EIGHTIES ADVENTURES | 75 BEST DIAMOND AGE SCI-FI ADVENTURES | 100 BEST NINETIES ADVENTURES (in progress) | 1994 | 1995 | 1996 | 1997 | 1998 | 1999 | 2000 | 2001 | 2002 | 2003 | NOTES ON 21st-CENTURY ADVENTURES.