Best 1958 Adventures (8)
By: Joshua Glenn
August 27, 2018
One in a series of 10 posts identifying Josh Glenn's favorite 1958 adventure novels. Happy 60th anniversary!
*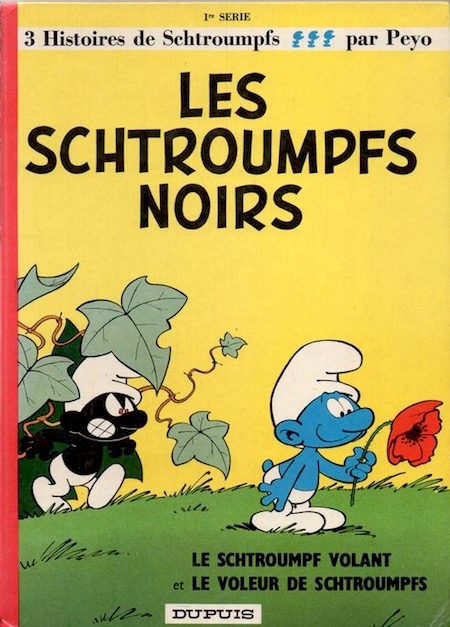 Peyo's Les Schtroumpfs (The Smurfs, serialized 1958–1992).
Forget the silly, often insipid 1980s Hanna-Barbera cartoon show, the unwatchable live-action/computer-animated movies from the 2010s, and the star-studded 2017 movie Smurfs: The Lost Village; forget the videogames, the songs, the toys and the theme parks. The Smurf comics from the '60s and '70s, created by the Belgian cartoonist Peyo, are actually pretty great. Hefty Surf, the tattooed strongman; Grouchy Smurf, the misanthrope; Clumsy Smurf, the dimwit; Jokey Smurf, the prankster; Vanity Smurf, the narcissist; Gargamel, the human sorceror who needs to catch a Smurf in order to create a philosopher's stone; Papa Smurf, the tribe's wise leader; and Smurfette, created by Gargamel to sow discord among the Smurfs… it's an entertaining cast of characters, a young kids' version of the Gaulish village created by France's René Goscinny and Albert Uderzo. (My only complaint is about Brainy Smurf, who's just a jerk with glasses.) The Smurfs' adventures — including a zombie apocalypse (Les Schtroumpfs noirs, serialized 1959), the rise of a proto-Trumpian populist would-be strongman (Le Schtroumpfissime, serialized 1964), the menace of a monstrous Howlibird, and a faked Moon landing — hold up well. Just be careful to avoid the many post-Peyo Smurfs comics.
Fun facts: Peyo introduced the Smurfs in the pages of Spirou magazine, to which he contributed the (also fun) series Johan and Peewit (1947–1977). In the story "The Flute with Six Holes," Johan and Peewit briefly encounter the tiny blue-skinned humanoids. The Smurfs got their own story in 1958, and were a huge hit.
***
JOSH GLENN'S *BEST ADVENTURES* LISTS: BEST 250 ADVENTURES OF THE 20TH CENTURY | 100 BEST OUGHTS ADVENTURES | 100 BEST RADIUM AGE (PROTO-)SCI-FI ADVENTURES | 100 BEST TEENS ADVENTURES | 100 BEST TWENTIES ADVENTURES | 100 BEST THIRTIES ADVENTURES | 75 BEST GOLDEN AGE SCI-FI ADVENTURES | 100 BEST FORTIES ADVENTURES | 100 BEST FIFTIES ADVENTURES | 100 BEST SIXTIES ADVENTURES | 75 BEST NEW WAVE SCI FI ADVENTURES | 100 BEST SEVENTIES ADVENTURES | 100 BEST EIGHTIES ADVENTURES | 75 BEST DIAMOND AGE SCI-FI ADVENTURES | 100 BEST NINETIES ADVENTURES (in progress) | 1994 | 1995 | 1996 | 1997 | 1998 | 1999 | 2000 | 2001 | 2002 | 2003 | NOTES ON 21st-CENTURY ADVENTURES.