Best 1958 Adventures (6)
By: Joshua Glenn
August 25, 2018
One in a series of 10 posts identifying Josh Glenn's favorite 1958 adventure novels. Happy 60th anniversary!
*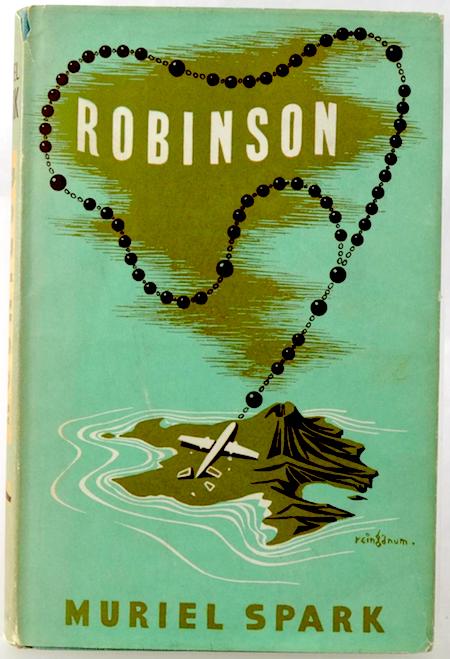 Muriel Spark's apophenic Robinsonade Robinson.
When a plane en route to the Azores crashes on a tropical island, a hermit who calls himself "Robinson" grudgingly cares for its three survivors. Except for his naive young ward, the Friday- (or Caliban-)like Miguel, and a cat, Robinson is the sole inhabitant of the remote atoll; in fact, he owns it. The first half of the novel explores the characters of the castaways: January Marlow, an opinionated journalist whose journal we're reading; Wells, publisher of an occult magazine and purveyor of lucky charms; and Jimmie Waterford, who turns out to have been looking for Robinson. The island is a perplexing dreamscape, full of strange sounds and sights; its inhabitants misunderstand each other; items are stolen; and January and Robinson argue about Catholicism; she is a recent convert, he has left the church. Then, Robinson disappears — leaving behind blood-stained clothes. Has he been murdered? If so, which of the remaining four characters might have wanted him dead? There's a search; mounting tension; January speculates about who might have done it, and why; and, near the end, there's a headlong flight from danger. The reader is left to ask: Whose story is this?
Fun facts: Spark's second novel is a sardonic inversion of, and meta-commentary on castaway tales such as The Tempest, The Island of Doctor Moreau, Lord of the Flies, and of course, Robinson Crusoe.
***
JOSH GLENN'S *BEST ADVENTURES* LISTS: BEST 250 ADVENTURES OF THE 20TH CENTURY | 100 BEST OUGHTS ADVENTURES | 100 BEST RADIUM AGE (PROTO-)SCI-FI ADVENTURES | 100 BEST TEENS ADVENTURES | 100 BEST TWENTIES ADVENTURES | 100 BEST THIRTIES ADVENTURES | 75 BEST GOLDEN AGE SCI-FI ADVENTURES | 100 BEST FORTIES ADVENTURES | 100 BEST FIFTIES ADVENTURES | 100 BEST SIXTIES ADVENTURES | 75 BEST NEW WAVE SCI FI ADVENTURES | 100 BEST SEVENTIES ADVENTURES | 100 BEST EIGHTIES ADVENTURES | 75 BEST DIAMOND AGE SCI-FI ADVENTURES | 100 BEST NINETIES ADVENTURES (in progress) | 1994 | 1995 | 1996 | 1997 | 1998 | 1999 | 2000 | 2001 | 2002 | 2003 | NOTES ON 21st-CENTURY ADVENTURES.