Best 1953 Adventures (2)
By: Joshua Glenn
July 22, 2018
One in a series of 10 posts identifying Josh Glenn's favorite 1953 adventure novels. Happy 65th anniversary!
*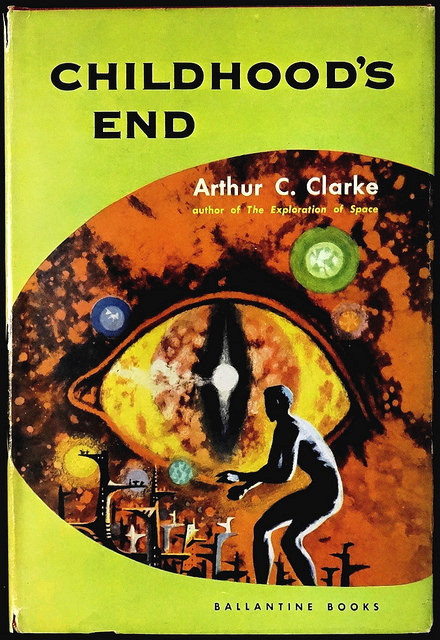 Arthur C. Clarke's sci-fi adventure Childhood's End (1953).
A Stapledonian epic in which an alien invasion is merely the prelude! In the late 20th century, as the US and USSR continue to jockey for global dominance, the skies above Earth's principal cities are suddenly filled with vast spaceships. The aliens, who call themselves the Overlords, and who decline to reveal their physical forms, announce that they have arrived to usher in an era of peace and prosperity for all humankind. Fast-forward five decades, and Earth truly is a peaceful and prosperous place. But some curious souls demand to know what the Overlords look like, where they come from, and what their ultimate purpose really is. Astrophysicist Jan Rodricks stows away on an Overlord supply ship; meanwhile, the Overlords take particular interest in a young brother and sister, Jeffrey and Jennifer, in whom may lie the potential for humankind's self-overcoming — whatever that might mean. Readers beware: When the truth is finally revealed, it's mind-blowing.
Fun fact: Clarke considered Childhood's End, which began life in 1946 as a short story, "Guardian Angel," one of his favourite own novels. In 1972, not one but two British prog rock bands — Pink Floyd and Genesis — released (trippy) songs inspired by the book.
***
JOSH GLENN'S *BEST ADVENTURES* LISTS: BEST 250 ADVENTURES OF THE 20TH CENTURY | 100 BEST OUGHTS ADVENTURES | 100 BEST RADIUM AGE (PROTO-)SCI-FI ADVENTURES | 100 BEST TEENS ADVENTURES | 100 BEST TWENTIES ADVENTURES | 100 BEST THIRTIES ADVENTURES | 75 BEST GOLDEN AGE SCI-FI ADVENTURES | 100 BEST FORTIES ADVENTURES | 100 BEST FIFTIES ADVENTURES | 100 BEST SIXTIES ADVENTURES | 75 BEST NEW WAVE SCI FI ADVENTURES | 100 BEST SEVENTIES ADVENTURES | 100 BEST EIGHTIES ADVENTURES | 75 BEST DIAMOND AGE SCI-FI ADVENTURES | 100 BEST NINETIES ADVENTURES (in progress) | 1994 | 1995 | 1996 | 1997 | 1998 | 1999 | 2000 | 2001 | 2002 | 2003 | NOTES ON 21st-CENTURY ADVENTURES.