Best 1953 Adventures (1)
By: Joshua Glenn
July 20, 2018
One in a series of 10 posts identifying Josh Glenn's favorite 1953 adventure novels. Happy 65th anniversary!
*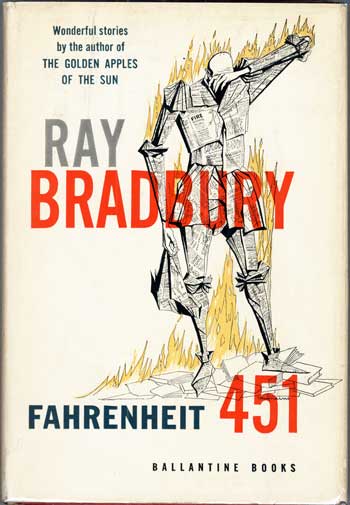 Ray Bradbury's sci-fi adventure Fahrenheit 451 (1953).
In a peaceful, complacent future America, books — along with all other vectors of critical thought — are forbidden. But Guy Montag, a "fireman" whose job involves burning books whenever a cache is located, is beginning to have doubts. His wife, like everybody else, seems content to spend all of her time watching participative soap operas, yet she attempts suicide — perhaps because her couch potato life is so empty. A gentle teenager, who loves to walk everywhere, in a car-dominated culture, and who asks probing questions, is killed senselessly, by a speeding driver. So Montag begins to read some of the books he was supposed to have burned… and soon enough, joins an underground effort to print and distribute books, and to discredit his fellow firemen. Once his own wife betrays him, Montag goes on the run. A powerful polemic about freedom… but also an exciting hunted-man adventure. Who can ever forgot the firemen's robotic dog, trailing Montag with its super-sensitive yet lethal hypodermic snout?
Fun fact: Fahrenheit 451 is often described as the first sci-fi novel to cross over from genre writing to the mainstream of American literature. (It's too bad that it's taught in high schools, because that makes people dislike it.) Adapted, in 1966, as an amazing-looking (if a bit stilted) movie by François Truffaut. HBO released a TV film based on the novel in 2018.
***
JOSH GLENN'S *BEST ADVENTURES* LISTS: BEST 250 ADVENTURES OF THE 20TH CENTURY | 100 BEST OUGHTS ADVENTURES | 100 BEST RADIUM AGE (PROTO-)SCI-FI ADVENTURES | 100 BEST TEENS ADVENTURES | 100 BEST TWENTIES ADVENTURES | 100 BEST THIRTIES ADVENTURES | 75 BEST GOLDEN AGE SCI-FI ADVENTURES | 100 BEST FORTIES ADVENTURES | 100 BEST FIFTIES ADVENTURES | 100 BEST SIXTIES ADVENTURES | 75 BEST NEW WAVE SCI FI ADVENTURES | 100 BEST SEVENTIES ADVENTURES | 100 BEST EIGHTIES ADVENTURES | 75 BEST DIAMOND AGE SCI-FI ADVENTURES | 100 BEST NINETIES ADVENTURES (in progress) | 1994 | 1995 | 1996 | 1997 | 1998 | 1999 | 2000 | 2001 | 2002 | 2003 | NOTES ON 21st-CENTURY ADVENTURES.