Best 1948 Adventures (9)
By: Joshua Glenn
July 13, 2018
One in a series of 10 posts identifying Josh Glenn's favorite 1948 adventure novels. Happy 70th anniversary!
*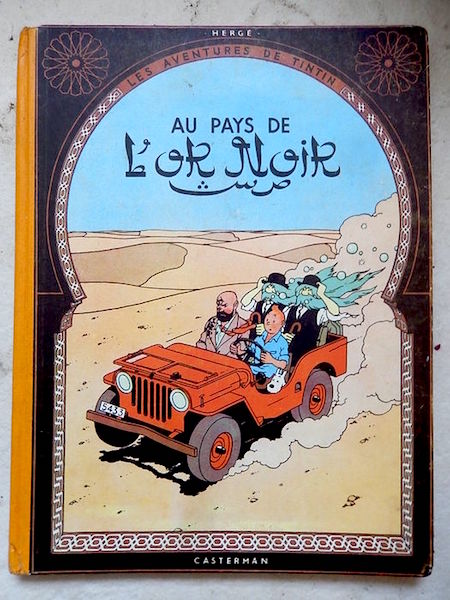 Hergé's Tintin adventure Tintin au pays de l'or noir (Land of Black Gold, serialized 1939–1940, 1948–1950; color album published 1950).
A militant group is sabotaging oil supplies in the Middle East — causing car engines to spontaneously explode across Europe. Hoping to prevent a second world war, Tintin, Snowy, and Thomson and Thompson set off for the kingdom of Khemed to investigate. Tintin is kidnapped by an Arab insurgent attempting to overthrow the Emir, Mohammed Ben Kalish Ezab. Escaping into the desert, Tintin encounters Dr. Müller, the Buchan-esque criminal and foreign agent from The Black Island (1937–1938), who is sabotaging the pipelines of Arabex, the Emir's preferred oil company. After surviving a sandstorm and reuniting with Thomson and Thompson, Tintin arrives in Khemed's capital city of Wadesdah, only to discover that Müller has kidnapped the Emir's beloved son, Prince Abdullah! Tintin sets off to rescue the prince, who turns out to be a "Red Chief"-style spoiled brat. Thomson and Thompson, meanwhile, mistakenly ingest Formula 14, which turns out to be the substance (invented by Müller) that is causing engines to explode; the results are, shall we say, chemical-comical.
Fun facts: Captain Haddock is mobilized into the Navy, at the beginning of the story; he doesn't reappear until the end. This is because the story was originally serialized from September 1939 until the German invasion of Belgium in May 1940; Haddock wasn't introduced until The Crab with the Golden Claws was serialized in 1940–1941. When Hergé revived Land of Black Gold in 1948, he made many changes — for example, Müller was originally a Nazi agent.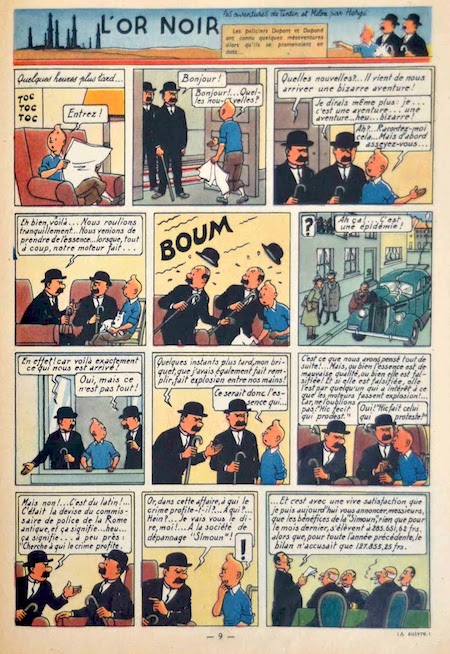 ***
JOSH GLENN'S *BEST ADVENTURES* LISTS: BEST 250 ADVENTURES OF THE 20TH CENTURY | 100 BEST OUGHTS ADVENTURES | 100 BEST RADIUM AGE (PROTO-)SCI-FI ADVENTURES | 100 BEST TEENS ADVENTURES | 100 BEST TWENTIES ADVENTURES | 100 BEST THIRTIES ADVENTURES | 75 BEST GOLDEN AGE SCI-FI ADVENTURES | 100 BEST FORTIES ADVENTURES | 100 BEST FIFTIES ADVENTURES | 100 BEST SIXTIES ADVENTURES | 75 BEST NEW WAVE SCI FI ADVENTURES | 100 BEST SEVENTIES ADVENTURES | 100 BEST EIGHTIES ADVENTURES | 75 BEST DIAMOND AGE SCI-FI ADVENTURES | 100 BEST NINETIES ADVENTURES (in progress) | 1994 | 1995 | 1996 | 1997 | 1998 | 1999 | 2000 | 2001 | 2002 | 2003 | NOTES ON 21st-CENTURY ADVENTURES.