Best 1948 Adventures (3)
By: Joshua Glenn
July 7, 2018
One in a series of 10 posts identifying Josh Glenn's favorite 1948 adventure novels. Happy 70th anniversary!
*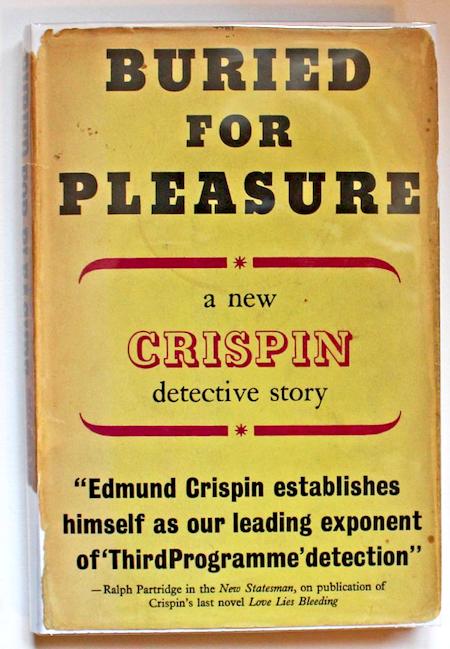 Edmund Crispin's Gervase Fen crime adventure Buried for Pleasure.
Crispin published two Gervase Fen adventures in 1948; I prefer this one, I think, to the better-known Love Lies Bleeding. In his sixth outing, Fen — a professor of English Literature at Oxford, and well-known amateur detective — temporarily relocates to a small village on England's east coast, where he campaigns for a seat in Parliament. The novel satirizes English postwar political life, which — thanks to the Labour Party's 1945 landslide victory, had recently set up the National Health Service and nationalized a fifth of the economy; at one point, Fen delivers a heartfelt speech praising his countrymen's political apathy. Meanwhile, a policeman acquaintance of Fen's who is in the area investigating a poisoning/blackmailing case, is murdered, and a mysterious young woman is run over! Whodunit? Was it the murder-mystery author who is obsessed with a barmaid? The socialist aristocrat who argues politics with the beautiful female taxi driver? The minister whose house is haunted by a poltergeist? Or the naked escaped lunatic who believes that he is Woodrow Wilson, and who shouts "Boo!" at unsuspecting women?
Fun facts: Bruce Montgomery was an Oxford alumnus, music teacher, and composer who would go on to write the scores for many British comedies of the 1950s. He borrowed the pen name "Edmund Crispin" from a character in Hamlet, Revenge!, Michael Innes's 1937 murder mystery.
***
JOSH GLENN'S *BEST ADVENTURES* LISTS: BEST 250 ADVENTURES OF THE 20TH CENTURY | 100 BEST OUGHTS ADVENTURES | 100 BEST RADIUM AGE (PROTO-)SCI-FI ADVENTURES | 100 BEST TEENS ADVENTURES | 100 BEST TWENTIES ADVENTURES | 100 BEST THIRTIES ADVENTURES | 75 BEST GOLDEN AGE SCI-FI ADVENTURES | 100 BEST FORTIES ADVENTURES | 100 BEST FIFTIES ADVENTURES | 100 BEST SIXTIES ADVENTURES | 75 BEST NEW WAVE SCI FI ADVENTURES | 100 BEST SEVENTIES ADVENTURES | 100 BEST EIGHTIES ADVENTURES | 75 BEST DIAMOND AGE SCI-FI ADVENTURES | 100 BEST NINETIES ADVENTURES (in progress) | 1994 | 1995 | 1996 | 1997 | 1998 | 1999 | 2000 | 2001 | 2002 | 2003 | NOTES ON 21st-CENTURY ADVENTURES.