Best 1943 Adventures (10)
By: Joshua Glenn
June 20, 2018
One in a series of 10 posts identifying Josh Glenn's favorite 1943 adventure novels. Happy 75th anniversary!
*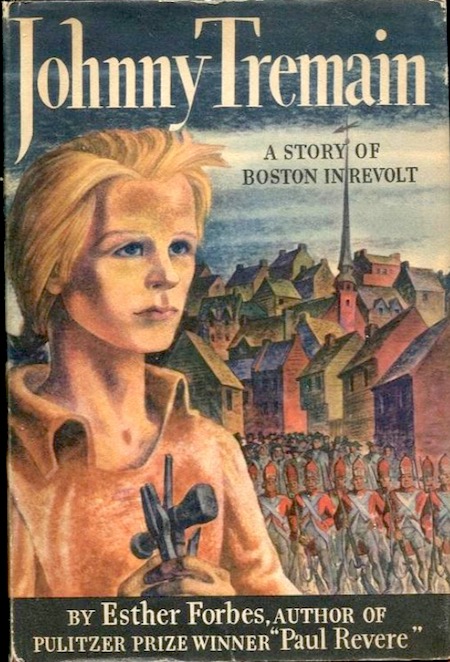 Esther Forbes's YA historical adventure Johnny Tremain.
I suspect that many people my age hate this book, because they were forced to read it in school. That's too bad, because it's terrific. In 1775, the 14-year-old Johnny Tremain, an orphaned apprentice silversmith, is badly injured in an accident (caused by an envious fellow apprentice, Dove). Having heard that he's related to the wealthy Boston merchant Mr. Lyte, Johnny visits him — bringing along a silver cup with the Lyte's family crest, which he's inherited from his mother. He's arrested for burglary, but his friends Rab and Cilla get him off the hook. Johnny next finds his way into the pre-revolutionary political scene, taking part in the Boston Tea Party, acting as a spy for the Sons of Liberty, and rubbing elbows with John Hancock, Samuel Adams, Paul Revere, and the unhinged-seeming activist James Otis, who tells him that "a man can stand up." What I liked about the book, as an adolescent, is how stubborn and prideful Johnny is, at first; I like this about John Christopher's protagonists, too.
Fun facts: The book won the 1944 Newbery Medal and is one of the all-time bestselling children's books in the United States. George Saunders is a fan. The Bastard, a 1974 potboiler by John Jakes, is a rip-off. Walt Disney's 1957 live-action adaptation wasn't bad!
***
JOSH GLENN'S *BEST ADVENTURES* LISTS: BEST 250 ADVENTURES OF THE 20TH CENTURY | 100 BEST OUGHTS ADVENTURES | 100 BEST RADIUM AGE (PROTO-)SCI-FI ADVENTURES | 100 BEST TEENS ADVENTURES | 100 BEST TWENTIES ADVENTURES | 100 BEST THIRTIES ADVENTURES | 75 BEST GOLDEN AGE SCI-FI ADVENTURES | 100 BEST FORTIES ADVENTURES | 100 BEST FIFTIES ADVENTURES | 100 BEST SIXTIES ADVENTURES | 75 BEST NEW WAVE SCI FI ADVENTURES | 100 BEST SEVENTIES ADVENTURES | 100 BEST EIGHTIES ADVENTURES | 75 BEST DIAMOND AGE SCI-FI ADVENTURES | 100 BEST NINETIES ADVENTURES (in progress) | 1994 | 1995 | 1996 | 1997 | 1998 | 1999 | 2000 | 2001 | 2002 | 2003 | NOTES ON 21st-CENTURY ADVENTURES.