Best 1943 Adventures (5)
By: Joshua Glenn
June 14, 2018
One in a series of 10 posts identifying Josh Glenn's favorite 1943 adventure novels. Happy 75th anniversary!
*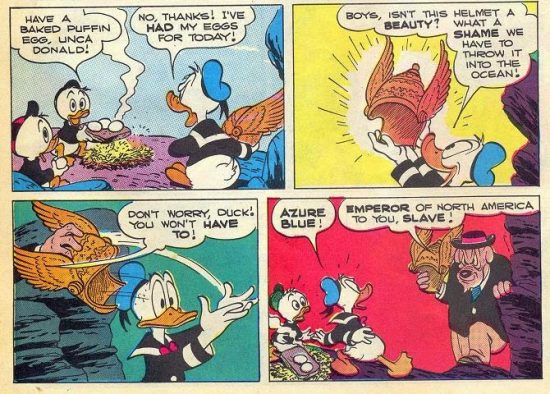 Carl Barks's Donald Duck comics (1943–1978).
After quitting his job at Walt Disney Studio, in 1943 Carl Barks began freelancing for Walt Disney's Comics and Stories — which by the mid-1950s would become the best-selling comic book in the United States. He'd write and draw some 500 uncredited Donald Duck stories for this and other magazines, including Four Color and Uncle Scrooge. Today, Barks's best-loved stories are the longer (24–32 pp.) stories via which he introduced generations of children to Twenties- and Thirties-type adventure tropes. Donald and his nephews Huey, Dewey and Louie (whose Junior Woodchucks Guidebook is one of the great fictional propaedeutic enchiridions), not to mention Donald's miserly uncle, Scrooge McDuck, are intrepid, resourceful, ingenious treasure- and artifact-hunters. Some of their most notable outings include: "The Old Castle's Secret" (June 1948), the first of Uncle Scrooge's many mystery/horror treasure hunts; "Sheriff of Bullet Valley" (October 1948), a western adventure/mystery; "Lost in the Andes!" (April 1949); "The Golden Helmet" (July 1952), in which Donald and his nephews hunt for a Viking helmet that gives the possessor legal claim to North America; "Back to the Klondike" (September 1952); "Tralla La" (June 1954), in which Scrooge seeks out a Himalayan utopia inspired by James Hilton's 1933 novel Lost Horizon; and the March 1960 sci-fi adventure "Island in the Sky." Check out Fantagraphics' reissues!
Fun facts: Steven Spielberg and George Lucas were fans, particularly of the 1954 Uncle Scrooge adventure "The Seven Cities of Cibola."
***
JOSH GLENN'S *BEST ADVENTURES* LISTS: BEST 250 ADVENTURES OF THE 20TH CENTURY | 100 BEST OUGHTS ADVENTURES | 100 BEST RADIUM AGE (PROTO-)SCI-FI ADVENTURES | 100 BEST TEENS ADVENTURES | 100 BEST TWENTIES ADVENTURES | 100 BEST THIRTIES ADVENTURES | 75 BEST GOLDEN AGE SCI-FI ADVENTURES | 100 BEST FORTIES ADVENTURES | 100 BEST FIFTIES ADVENTURES | 100 BEST SIXTIES ADVENTURES | 75 BEST NEW WAVE SCI FI ADVENTURES | 100 BEST SEVENTIES ADVENTURES | 100 BEST EIGHTIES ADVENTURES | 75 BEST DIAMOND AGE SCI-FI ADVENTURES | 100 BEST NINETIES ADVENTURES (in progress) | 1994 | 1995 | 1996 | 1997 | 1998 | 1999 | 2000 | 2001 | 2002 | 2003 | NOTES ON 21st-CENTURY ADVENTURES.