Best 1943 Adventures (3)
By: Joshua Glenn
June 12, 2018
One in a series of 10 posts identifying Josh Glenn's favorite 1943 adventure novels. Happy 75th anniversary!
*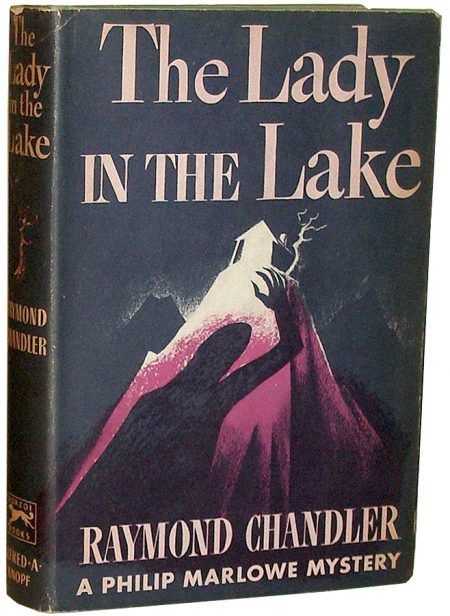 Raymond Chandler's Philip Marlowe crime adventure The Lady in the Lake.
Los Angeles private investigator Philip Marlowe, in his fourth book-length outing, is hired to find Crystal, the estranged wife of a perfume executive. She has apparently run off from their summer home, in a mountain town couple of hours way from the city, so Marlowe begins his investigation there. Did the missing woman run off to Mexico with her lover? Marlowe runs into the gigolo, who claims he didn't abscond with Crystal… so what's happened to her? It's a convoluted plot… which eventually involves other women, and several murders. Muriel, the wife of Crystal's summer home caretaker, has also apparently run off. There's a corrupt doctor whose wife died suspiciously, crooked cops (in "Bay City," based on Santa Monica) who slap Marlowe around and frame him for drunk driving, cold-blooded killers, and the onset of World War II: rubber is rationed, dams are protected, cities are subjected to blackout. Plus. Marlowe wakes up to discover a dead, nearly naked woman in the room….
Fun facts: Chandler fixed up this novel from two stories previously published (in 1939 and 1941) in the pulp journal Black Mask. Robert Montgomery directed the 1947 film noir adaptation, starring Robert Montgomery. The film is notable for being shot almost entirely from Marlowe's viewpoint; we see only what he sees.
***
JOSH GLENN'S *BEST ADVENTURES* LISTS: BEST 250 ADVENTURES OF THE 20TH CENTURY | 100 BEST OUGHTS ADVENTURES | 100 BEST RADIUM AGE (PROTO-)SCI-FI ADVENTURES | 100 BEST TEENS ADVENTURES | 100 BEST TWENTIES ADVENTURES | 100 BEST THIRTIES ADVENTURES | 75 BEST GOLDEN AGE SCI-FI ADVENTURES | 100 BEST FORTIES ADVENTURES | 100 BEST FIFTIES ADVENTURES | 100 BEST SIXTIES ADVENTURES | 75 BEST NEW WAVE SCI FI ADVENTURES | 100 BEST SEVENTIES ADVENTURES | 100 BEST EIGHTIES ADVENTURES | 75 BEST DIAMOND AGE SCI-FI ADVENTURES | 100 BEST NINETIES ADVENTURES (in progress) | 1994 | 1995 | 1996 | 1997 | 1998 | 1999 | 2000 | 2001 | 2002 | 2003 | NOTES ON 21st-CENTURY ADVENTURES.