Best 1938 Adventures (8)
By: Joshua Glenn
May 18, 2018
One in a series of 10 posts identifying Josh Glenn's favorite 1938 adventure novels. Happy 80th anniversary!
*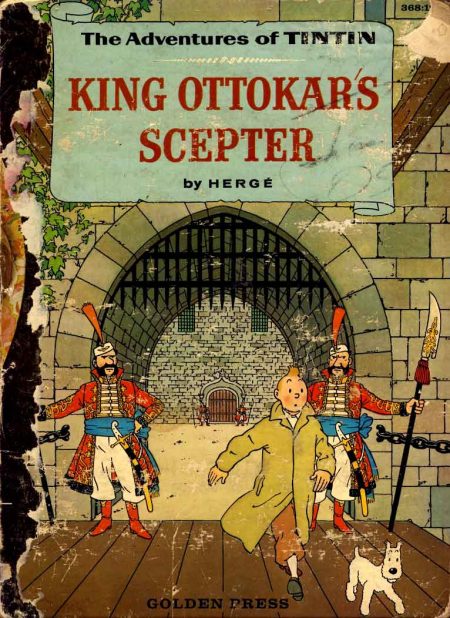 Hergé's Ruritanian-type Tintin adventure King Ottokar's Sceptre (serialized August 1938 to August 1939; as an album, 1947).
I've claimed that other Tintin adventures were my favorites, back when I was a kid in the '70s — but I think that King Ottokar's Sceptre really was the one that I returned to most frequently and joyfully. Stumbling upon a plot aimed at dethroning King Muskar XII, the rightful monarch of Syldavia — a fictional Balkan country that will also figure in Destination Moon and The Calculus Affair — our hero inserts himself into the action. And there's a lot of action: Before Tintin ever meets King Ottokar, his apartment is bombed; he's forced out of an airplane; he's ambushed by thugs — escaping only thanks to the timely arrival of Bianca Castafiore, the opera singer whom we meet here for the first time; and he's the victim of an assassination attempt! The drawings of Syldavian costumes, tapestries, and historical manuscripts are gorgeous; the plot against Ottokar is ingenious; and Tintin's (and Snowy's) efforts to retrieve the stolen scepter are utterly thrilling.
Fun facts: Syldavia's neighbor, Borduria, is a fascist, proto-totalitarian state along the lines of prewar Hungary or Romania. Hergé intended King Ottokar's Sceptre as a satirical criticism of Nazi Germany's annexation of Austria in March 1938.
***
JOSH GLENN'S *BEST ADVENTURES* LISTS: BEST 250 ADVENTURES OF THE 20TH CENTURY | 100 BEST OUGHTS ADVENTURES | 100 BEST RADIUM AGE (PROTO-)SCI-FI ADVENTURES | 100 BEST TEENS ADVENTURES | 100 BEST TWENTIES ADVENTURES | 100 BEST THIRTIES ADVENTURES | 75 BEST GOLDEN AGE SCI-FI ADVENTURES | 100 BEST FORTIES ADVENTURES | 100 BEST FIFTIES ADVENTURES | 100 BEST SIXTIES ADVENTURES | 75 BEST NEW WAVE SCI FI ADVENTURES | 100 BEST SEVENTIES ADVENTURES | 100 BEST EIGHTIES ADVENTURES | 75 BEST DIAMOND AGE SCI-FI ADVENTURES | 100 BEST NINETIES ADVENTURES (in progress) | 1994 | 1995 | 1996 | 1997 | 1998 | 1999 | 2000 | 2001 | 2002 | 2003 | NOTES ON 21st-CENTURY ADVENTURES.