Best 1933 Adventures (6)
By: Joshua Glenn
April 23, 2018
One in a series of 10 posts identifying Josh Glenn's favorite 1933 adventure novels. Happy 85th anniversary!
*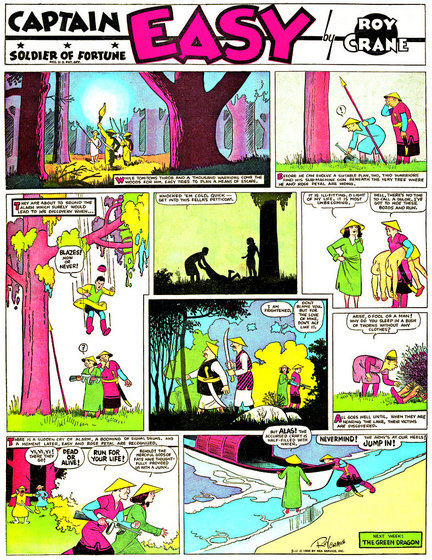 Roy Crane's Captain Easy Sunday comic strip (1933–1937).
Crane's long-running Wash Tubbs (1924–1988) has been called the first true action/adventure comic strip. However, the diminutive, girl-crazy Tubbs was a comical character, and the strip — like Kahle's Hairbreadth Harry and Wheelan's Minute Movies befotre it — was influenced by silent-movie melodramas and vaudeville. In 1928, the debut of Foster's Tarzan and Knowlan and Calkins's Buck Rogers launched the era of the more dramatic, authentic adventure strip; in 1929, Crane introduced the tough Southerner Captain Easy as Tubbs's sidekick. Though drawn in a "cartoony" way, the strip was an exciting one… and in 1933 Easy got his own Sunday page, Captain Easy, Soldier of Fortune. Crane exploited the possibilities of a full newspaper page to their fullest: As R.C. Harvey notes, "When Crane drew Easy at the brink of a cliff, he gave depth to the scene by depicting it in a vertical panel that is two- or three-tiers tall. When Easy leads a cavalry charge or paddles a canoe down a lazy river, the panel is as wide as the page, giving panoramic sweep to the scene depicted." Alas, in 1937, Crane's syndicate began requiring Sunday strips to be modular. Crane quit the Sunday strip, and in 1943 quit Captain Easy altogether.
Fun facts: Crane has been credited with pioneering the use of onomatopoeic sound effects — BAM, POW, WHAM — in comic strips. Wash Tubbs and Captain Easy were featured in Big Little Books during the 1930s; and in Dell comic books in the '30s and '40s. Superman co-creator Joe Shuster cited Crane as an influence. Caniff's Terry and the Pirates (1934–on): second-time-as-tragedy?
***
JOSH GLENN'S *BEST ADVENTURES* LISTS: BEST 250 ADVENTURES OF THE 20TH CENTURY | 100 BEST OUGHTS ADVENTURES | 100 BEST RADIUM AGE (PROTO-)SCI-FI ADVENTURES | 100 BEST TEENS ADVENTURES | 100 BEST TWENTIES ADVENTURES | 100 BEST THIRTIES ADVENTURES | 75 BEST GOLDEN AGE SCI-FI ADVENTURES | 100 BEST FORTIES ADVENTURES | 100 BEST FIFTIES ADVENTURES | 100 BEST SIXTIES ADVENTURES | 75 BEST NEW WAVE SCI FI ADVENTURES | 100 BEST SEVENTIES ADVENTURES | 100 BEST EIGHTIES ADVENTURES | 75 BEST DIAMOND AGE SCI-FI ADVENTURES | 100 BEST NINETIES ADVENTURES (in progress) | 1994 | 1995 | 1996 | 1997 | 1998 | 1999 | 2000 | 2001 | 2002 | 2003 | NOTES ON 21st-CENTURY ADVENTURES.