Best 1933 Adventures (1)
By: Joshua Glenn
April 17, 2018
One in a series of 10 posts identifying Josh Glenn's favorite 1933 adventure novels. Happy 85th anniversary!
*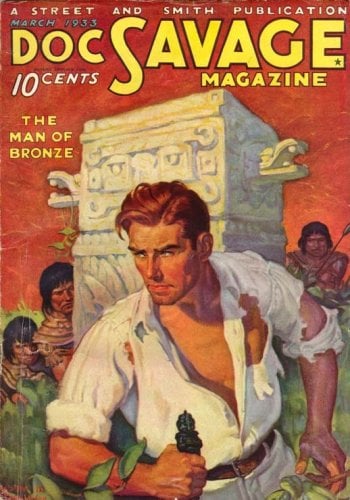 Lester Dent's Doc Savage (1933-on).
In a good example of the first-time-as-comedy-second-time-as-tragedy trope, the "Doc Savage" character — Clark Savage Jr., a nearly superhuman surgeon, scientist, adventurer, inventor, explorer, and researcher — is an earnest rip-off of Henry Stone, protagonist of Philip Wylie's sardonic superman novel The Savage Gentleman (1932). An expert at disguise, not to mention hand-to-hand combat, Savage's only goal in life is to right wrongs and punish evildoers. He is accompanied, in many of his adventures, by the brilliant chemist "Monk" Mayfair, dapper attorney (and Brigadier General) "Ham" Brooks, construction engineer and strongman "Renny" Renwick, electrical engineer "Long Tom" Roberts, and be-monocled archaeologist Johnny Littlejohn. Their HQ is on the 86th floor of a New York skyscraper (implicitly the Empire State Building); and Savage also has a Fortress of Solitude in the Arctic. Here we see Golden Age themes and memes emerging from the Radium Age.
Fun fact: Of the 181 Doc Savage novels published by Street and Smith, 179 were credited to "Kenneth Robeson"; in fact, all but 20 of these novels were written by Lester Dent. There was a 1940s comic book, and a radio show based on the comic; Bantam Books began reprinting the novels in 1964, introducing the character to a new generation of fans; and there was a campy 1975 movie, the last film completed by George Pal.
***
JOSH GLENN'S *BEST ADVENTURES* LISTS: BEST 250 ADVENTURES OF THE 20TH CENTURY | 100 BEST OUGHTS ADVENTURES | 100 BEST RADIUM AGE (PROTO-)SCI-FI ADVENTURES | 100 BEST TEENS ADVENTURES | 100 BEST TWENTIES ADVENTURES | 100 BEST THIRTIES ADVENTURES | 75 BEST GOLDEN AGE SCI-FI ADVENTURES | 100 BEST FORTIES ADVENTURES | 100 BEST FIFTIES ADVENTURES | 100 BEST SIXTIES ADVENTURES | 75 BEST NEW WAVE SCI FI ADVENTURES | 100 BEST SEVENTIES ADVENTURES | 100 BEST EIGHTIES ADVENTURES | 75 BEST DIAMOND AGE SCI-FI ADVENTURES | 100 BEST NINETIES ADVENTURES (in progress) | 1994 | 1995 | 1996 | 1997 | 1998 | 1999 | 2000 | 2001 | 2002 | 2003 | NOTES ON 21st-CENTURY ADVENTURES.