Best 1928 Adventures (9)
By: Joshua Glenn
April 14, 2018
One in a series of 10 posts identifying Josh Glenn's favorite 1928 adventure novels. Happy 90th anniversary!
*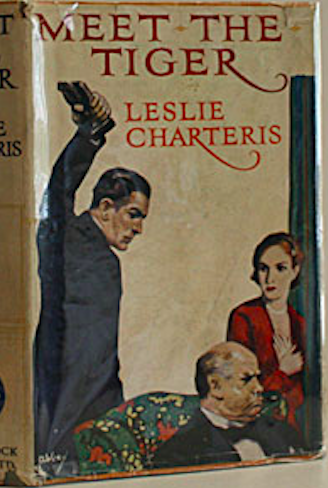 Leslie Charteris's Simon Templar crime adventure Meet the Tiger (aka Meet — The Tiger! and The Saint Meets the Tiger).
The early Saint escapades — and this is the very first! — typically concerned wealthy adventurer Simon Templar's efforts to steal from criminals, making him a good-guy by transitive property. Here, Templar lives with his thuggish manservant, Orace, in a converted "pillbox" (a concrete field fortification left over from WWI) on the southwestern coast of England. His intent is to settle an old score with a mysterious criminal known as "The Tiger," by stealing his (stolen) gold and collecting a reward; the only question is: Which of Templar's neighbors is the Tiger? There's also an undercover police officer in town, as well as several of the Tiger's "cubs." During the middle third of the novel, Templar appears to be dead — but his mission is carried forward by an intrepid young socialite, Patricia Holm, with whom the Saint has fallen in love!
Fun facts: Charteris would go on to write three dozen subsequent Simon Templar novels, novellas, and story collections. The character was also featured in movies from 1938–1941, in a 1962–1969 British TV series starring a dashing young Roger Moore, and in radio dramas and comic strips. Charteris considered Meet the Tiger one of his weakest efforts.
***
JOSH GLENN'S *BEST ADVENTURES* LISTS: BEST 250 ADVENTURES OF THE 20TH CENTURY | 100 BEST OUGHTS ADVENTURES | 100 BEST RADIUM AGE (PROTO-)SCI-FI ADVENTURES | 100 BEST TEENS ADVENTURES | 100 BEST TWENTIES ADVENTURES | 100 BEST THIRTIES ADVENTURES | 75 BEST GOLDEN AGE SCI-FI ADVENTURES | 100 BEST FORTIES ADVENTURES | 100 BEST FIFTIES ADVENTURES | 100 BEST SIXTIES ADVENTURES | 75 BEST NEW WAVE SCI FI ADVENTURES | 100 BEST SEVENTIES ADVENTURES | 100 BEST EIGHTIES ADVENTURES | 75 BEST DIAMOND AGE SCI-FI ADVENTURES | 100 BEST NINETIES ADVENTURES (in progress) | 1994 | 1995 | 1996 | 1997 | 1998 | 1999 | 2000 | 2001 | 2002 | 2003 | NOTES ON 21st-CENTURY ADVENTURES.