Best 1928 Adventures (3)
By: Joshua Glenn
April 5, 2018
One in a series of 10 posts identifying Josh Glenn's favorite 1928 adventure novels. Happy 90th anniversary!
*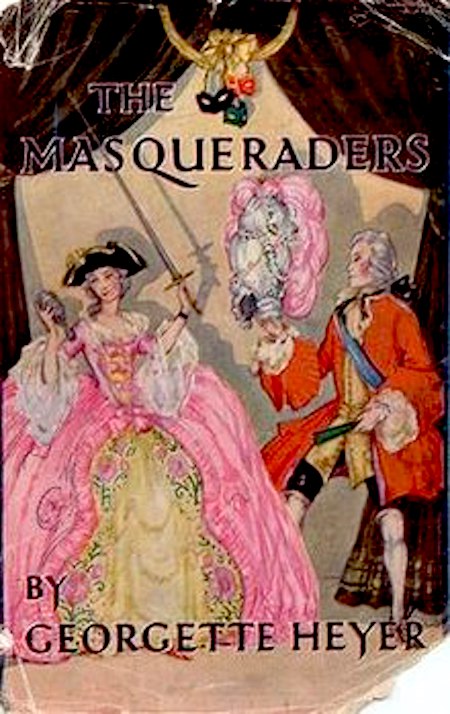 Georgette Heyer's historical adventure The Masqueraders.
The prolific Heyer is best known for her many Regency novels, which were best-sellers from the Thirties through the Fifties; this, however, is one of her Georgian novels — set in England shortly after the 1745 Jacobite rising during which Bonny Prince Charlie failed to seize the British crown. Prudence and Robin Tremaine, a sister and brother traveling to London, discover that a beautiful heiress staying in the same inn has changed her mind about eloping — though her lover won't allow her to return home. The siblings rescue the damsel, making powerful enemies in the process; then they proceed to London, where they make their way into high society. Except Prudence is disguised as a dashing male dandy, and Robin as a blushing young lady. Why? Turns out that they're escaped Jacobites, and that their father is an adventurer and con artist who has taught his children to follow in his footsteps! Can Prudence and Robin unmask themselves without risking everything? An amusing romp that has a sense of humor about its own absurdities — why hasn't it been adapted as a movie?
Fun facts: Though Heyer's romance novels paid the bills, she was scornful of the genre — as The Masqueraders demonstrates — and thought of herself as a historical novelist.
***
JOSH GLENN'S *BEST ADVENTURES* LISTS: BEST 250 ADVENTURES OF THE 20TH CENTURY | 100 BEST OUGHTS ADVENTURES | 100 BEST RADIUM AGE (PROTO-)SCI-FI ADVENTURES | 100 BEST TEENS ADVENTURES | 100 BEST TWENTIES ADVENTURES | 100 BEST THIRTIES ADVENTURES | 75 BEST GOLDEN AGE SCI-FI ADVENTURES | 100 BEST FORTIES ADVENTURES | 100 BEST FIFTIES ADVENTURES | 100 BEST SIXTIES ADVENTURES | 75 BEST NEW WAVE SCI FI ADVENTURES | 100 BEST SEVENTIES ADVENTURES | 100 BEST EIGHTIES ADVENTURES | 75 BEST DIAMOND AGE SCI-FI ADVENTURES | 100 BEST NINETIES ADVENTURES (in progress) | 1994 | 1995 | 1996 | 1997 | 1998 | 1999 | 2000 | 2001 | 2002 | 2003 | NOTES ON 21st-CENTURY ADVENTURES.