Best 1918 Adventures (9)
By: Joshua Glenn
January 23, 2018
One in a series of 10 posts identifying Josh Glenn's favorite 1918 adventure novels. Happy 100th anniversary!
*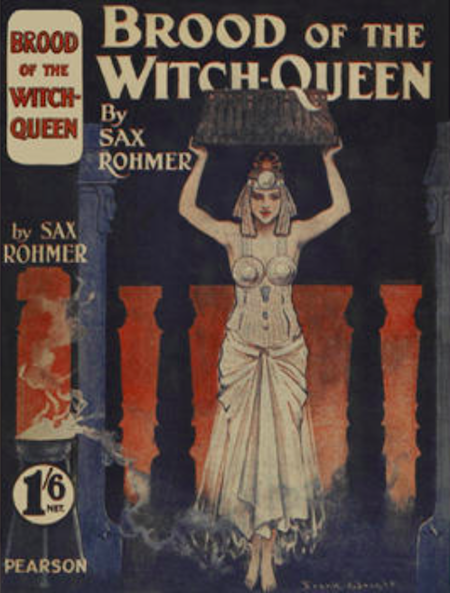 Sax Rohmer's supernatural adventure Brood of the Witch Queen.
Robert Cairn, the son of eminent physician Dr. Bruce Cairn, is disturbed by an Oxford classmate, the effeminate Antony Ferrara, whose rooms are full of incense… not to mention an unwrapped female mummy. Ferrara is the adopted son of Dr. Cairn's friend, Sir Michael. Years earlier, Bruce and Michael had spelunked forgotten pyramids in Egypt, searching for the tomb of a witch-queen… and in doing so, unwittingly awakened an evil avatar of ancient sorcery! The novel was originally serialized, so it reads like a series of discrete adventures — in each of which, the Cairns hunt Antony Ferrara across England and Egypt, while attempting to protect the beautiful Myra Duquesne, who along with Antony is heir to Sir Michael's fortune. Although the ending is disappointingly abrupt, the atmospheric horrors (vampires, mummies, hordes of spiders and beetles, an infernal Book of Thoth) leading up to that point are very fun.
Fun facts: First serialized in the British magazine Premiere. In his 1927 essay "Supernatural Horror in Literature," H.P. Lovecraft describes Brood of the Witch Queen as one of the best pulp novels inspired by Bram Stoker's Dracula.
***
Let me know if I've missed any 1918 adventures that you particularly admire.