Best 1968 Adventures (4)
By: Joshua Glenn
December 22, 2017
One in a series of 10 posts identifying Josh Glenn's favorite 1968 adventure novels. Happy 50th anniversary!
*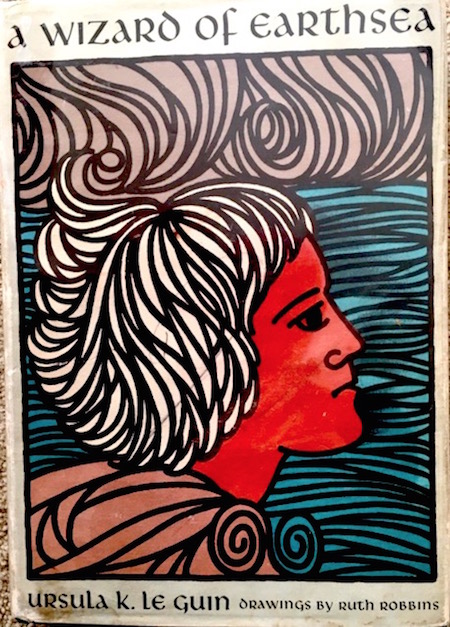 Ursula K. Le Guin's fantasy adventure A Wizard of Earthsea.
In the world of Earthsea, magic is an inborn talent — and those born with the most powerful gifts are sent to school on the island of Roke, where they are trained to become responsible, staff-carrying wizards. (Hello, Harry Potter.) Ged, a reddish-skinned shepherd boy, is trained by the humble mage Ogion to use his impressive powers in harmony with nature; however, Ged is impatient and reckless. (Hello, Ben Kenobi and Luke Skywalker — not to mention Qui-Gon Jinn and Anakin.) At Roke, Ged shows off to his fellow students by releasing a shadow creature that attacks him. Injured and afraid, he leaves school and seeks wizard work (including protecting a village from dragons!) while also evading the shadow creature, which continues to haunt him… until his old teacher, Ogion, advises Ged to confront his fears.
Fun facts: This is Le Guin's first book for a young adult audience; Margaret Atwood has called it one of the "wellsprings" of fantasy literature. The next two installments in the Earthsea Trilogy are The Tombs of Atuan (1970/1971) and The Farthest Shore (1972). Later books in the Earthsea cycle: Tehanu, Tales from Earthsea, and The Other Wind. In 2005, Le Guin expressed her disappointment when the Sci Fi Channel's loose adaptation of the Earthsea trilogy cast a white actor as Ged.
***
Let me know if I've missed any 1968 adventures that you particularly admire.