Best 1982 Adventures (10)
By: Joshua Glenn
December 15, 2017
One in a series of 10 posts identifying Josh Glenn's favorite 1982 adventure novels. Happy 35th anniversary!
*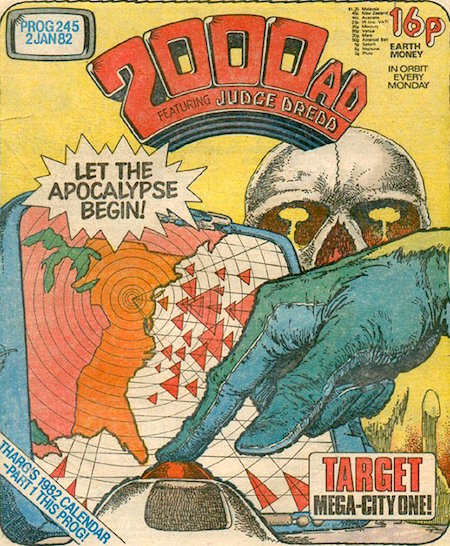 John Wagner, Alan Grant, and Carlos Ezquerra's Judge Dredd adventure "The Apocalypse War" (serialized 1/2/82 to 6/26/82).
In 1977, writer John Wagner and artist Carlos Ezquerra created Judge Dredd — a violent sci-fi comic strip spoofing American action movies (military, cop, western, vigilante) of the Seventies — for British readers of the weekly magazine 2000 AD. In the 22nd century, the titular judge-jury-and-executioner character and his colleagues police Mega-City One, which is subdivided into gigantic towers known as City Blocks stretching from Boston to Key West. In "The Apocalypse War," which follows a story in which Mega-City One undergoes a Block War engineered by East Meg One, a Soviet citystate, the Russkies invade the vulnerable Mega-City One. Hundreds of millions of Mega-City One citizens are killed, and ninety percent of the city is captured — while Dredd tries to organize a guerrilla resistance movement. Failing that, he must consider the option of completely obliterating East Meg One…
Fun fact: Via his excellent Dredd Reckoning blog, Douglas Wolk notes just how dark the humor of this storyline is: "It's a story about genocide with comedy relief interludes — the Walter-and-Maria slapstick routines, the Country Joe-type folksinger getting splattered by a missile."
***
Let me know if I've missed any 1982 adventures that you particularly admire.