Best 1972 Adventures (3)
By: Joshua Glenn
October 6, 2017
One in a series of 10 posts identifying Josh Glenn's favorite 1972 adventure novels. Happy 45th anniversary!
*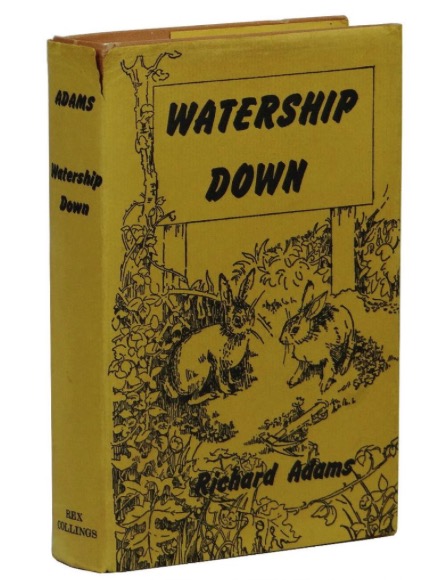 Richard Adams's talking-animal Argonaut Folly adventure Watership Down.
An Aeneid-like epic in which a ragtag band of rabbits escape the destruction of their warren and journey across south-central England in search of a new home. Their unlikely leader is Hazel, whose main concern was to protect his oddball (visionary) brother Fiver; the charismatic star of the story is the gruff, tough rabbit Bigwig. These unlikely misfits encounter predators, snares, and automobiles; and they must elude the Owsla — the security force of their own warren, sent to fetch them back. Though the ever-growing group is tempted to join a couple of un-free rabbit societies, Hazel, Fiver, and Bigwig are fiercely determined to start their own warren… which they finally do, at Watership Down, a hill in the north of Hampshire. However, they need does — which leads them into more perilous adventures. And in the end, they must survive an attack led by Woundwort, the monstrous leader of a rival warren. Throughout, we hear inspirational excerpts from the lapine mythology of El-ahrairah the trickster.
Fun facts: Adapted into the 1978 animated film Watership Down. In April 2016 it was announced that the BBC and Netflix would produce a four-part series based on the novel.
***
Let me know if I've missed any 1972 adventures that you particularly admire.