Best 1927 Adventures (4)
By: Joshua Glenn
March 8, 2017
One in a series of 10 posts identifying Josh Glenn's favorite 1927 adventure novels. Happy 90th anniversary!
*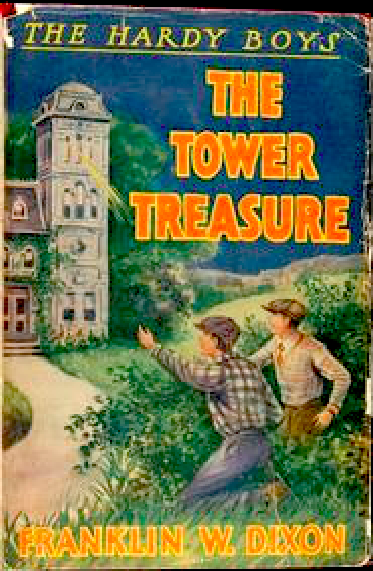 Franklin W. Dixon's Hardy Boys adventure The Tower Treasure.
A red-haired menace to navigation steals a jalopy from Chet Morton, a friend of Frank and Joe Hardy. He also attempts a ferryboat ticket office robbery. Soon after, it is reported that forty thousand dollars in securities and jewels have been stolen from the Tower Mansion owned by siblings Hurd and Adelia Applegate. Is the Tower's caretaker — who recently managed to pay off a debt, somehow — the guilty party? The Hardy Boys don't think so, because the caretaker's son is their pal, Perry. Their father, detective Fenton Hardy, takes them along when he heads to New York to follow a lead. A career criminal named Jackleg, injured in a railroad accident, confesses on his deathbed that he stole the loot — while wearing a red wig — and hid it "in the old tower." Can the Hardy Boys find the missing treasure and clear their friend's father of wrongdoing?
Fun facts: This is the first volume in the original Hardy Boys series. Franklin W. Dixon is the pen name used by a variety of different authors (Leslie McFarlane, a Canadian author, being the first) who wrote The Hardy Boys novels for the Stratemeyer Syndicate.
***
Let me know if I've missed any 1927 adventures that you particularly admire.