Best 1907 Adventures (4)
By: Joshua Glenn
February 18, 2017
One in a series of 10 posts identifying Josh Glenn's favorite 1907 adventure novels. Happy 110th anniversary!
*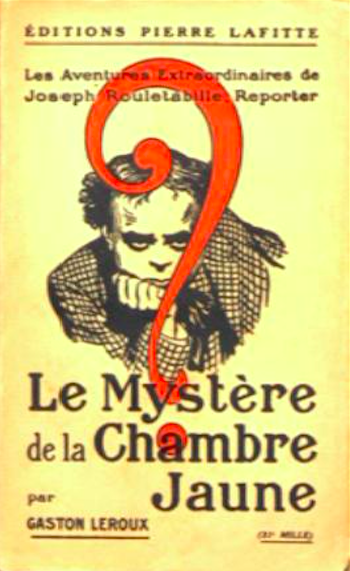 Gaston Leroux's detective adventure Le mystère de la chambre jaune (The Mystery of the Yellow Room; serialized 1907, 1908 as a book).
An early classic in the mystery genre; in fact, this is one of the very first locked-room mysteries! Joseph Rouletabille is a Tintin-like figure: a journalist and amateur detective. He is sent to investigate a criminal case at the Château du Glandier. Mathilde Stangerson, adult daughter of the castle's owner, Professor Joseph Stangerson, was found beaten nearly to death in a room adjacent to his laboratory on the castle grounds, with the door locked from the inside! Mathilde recovers slowly but can make no useful testimony. The reader is provided with detailed diagrams and floorplans illustrating the crime scene; can we puzzle out a solution? Does it have something to do with Professor's Stangerson's research into "matter dissociation"? Does Mathilde know more than she's letting on? More attempts are made on Mathilde's life; each time the perpetrator appears to vanish. But how?
Fun facts: First published in France in the periodical L'Illustration from September 1907 to November 1907.
***
Let me know if I've missed any 1907 adventures that you particularly admire.