Best 1922 Adventures (7)
By: Joshua Glenn
February 11, 2017
One in a series of 10 posts identifying Josh Glenn's favorite 1922 adventure novels. Happy 95th anniversary!
*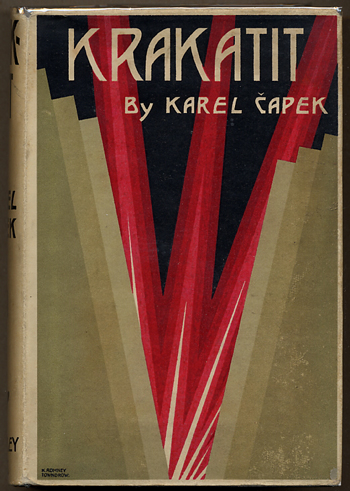 Karel Čapek's Krakatit (1924).
When a Czech engineer, Prokop, invents an explosive which releases the destructive energy contained in atoms, and which can destroy entire cities, he is wooed and pursued by those — a wealthy munitions manufacturer, a beautiful anarchist, a villain who may be the Devil himself — who would control it. A dreamlike, absurdist, volatile admixture of romance, adventure, and philosophy, Krakatit warns that with technological advances comes unforeseen temptations and consequences. "Do you want to rule the world?" demands the villain, of Prokop. "Good. Do you want to annihilate the world? Good. Do you want to make the world happy by forcing upon it eternal peace, God, a new order, revolution, or something of the sort? Why not?" In the end, a horrific explosion occurs.
Fun facts: Elsewhere, I have argued that this novel's 1925 British dustjacket is one of the greatest Radium Age science fiction cover designs; it captures both the excitement and terror of breakthrough technology.
***
Let me know if I've missed any 1922 adventures that you particularly admire.