Best 1912 Adventures (9)
By: Joshua Glenn
January 30, 2017
One in a series of 10 posts identifying Josh Glenn's favorite 1912 adventure novels. Happy 105th anniversary!
*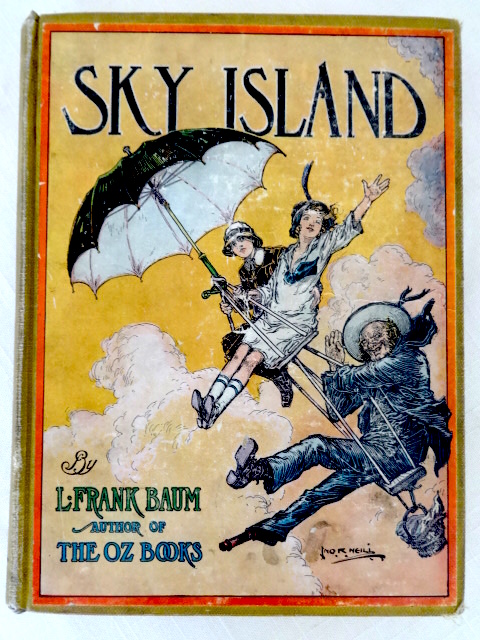 L. Frank Baum's children's fantasy adventure Sky Island: Being the Further Adventures of Trot and Cap'n Bill after Their Visit to the Sea Fairies.
When Trot, a young Californian girl (who first appears in Baum's 1911 story The Sea Fairies), and her friend Cap'n Bill meet Button Bright, a strange little boy with a magic umbrella, he takes them on a trip to an island in the sky inhabited by two species, the Blues and the Pinkies. The blue side of the island is ruled by a sadistic tyrant, the Boolooroo (the original Blue Meanie); he punishes disobedient subjects by slicing them in half and "patching" them — joining the wrong halves together. Although captured by the Boolooroo, Trot and Cap'n Bill and Button Bright escape to the friendlier, pink side of Sky Island. Trot becomes queen of the Pinkies, and leads an invasion of the Blue Country in order to recover the magic umbrella.
Fun facts: Oz fans first met Button Bright in 1909's The Road to Oz; Trot later appears in 1915's The Scarecrow of Oz. Baum believed — mistakenly — that Sky Island would probably be remembered as his best work.
***
Let me know if I've missed any 1912 adventures that you particularly admire.