Best 1917 Adventures (8)
By: Joshua Glenn
January 2, 2017
One in a series of 10 posts identifying Josh Glenn's favorite 1917 adventure novels. Happy 100th anniversary!
*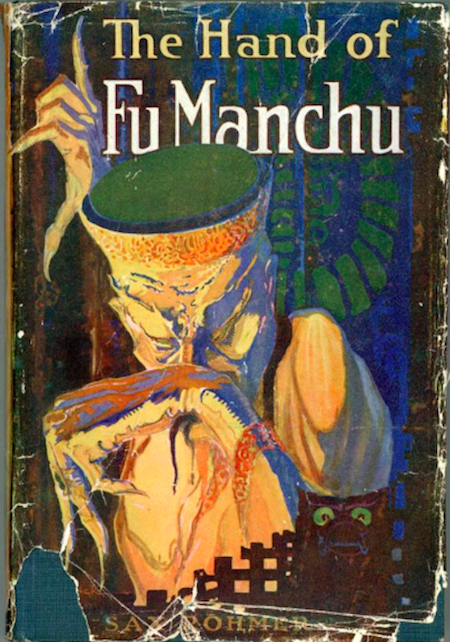 Sax Rohmer's Fu Manchu crime adventure The Si-Fan Mysteries (US title: The Hand of Fu Manchu).
Subtitled "Being a New Phase in the Activities of Fu-Manchu, the Devil Doctor," this is a collection of connected stories in which Fu Manchu, an agent of a Chinese secret society, the Si-Fan, again orchestrates terror schemes — in London — with the goal of undermining the balance of global power. In order to assume command of the Si-Fan, Fu Manchu needs a bizarre engraved chest… which colonial police commissioner Nayland Smith has taken possession of, after the mysterious death of the British agent who brought it back from Tibet. Everything is topsy-turvy: Karamaneh, the beautiful servant of Fu Manchu who in previous adventures rescued Smith and his sidekick, Petrie, needs rescuing herself; Fu Manchu is nearly killed — there's a scene in which his bullet-ridden skull is operated on. Otherwise, though, it's business as usual: a fast-moving plot, poisonous flowers, an opium den in East London… and an insect-guarded labyrinth!
Fun fact: The final installment in what Rohmer intended to be a trilogy — beginning with The Mystery of Dr. Fu-Manchu (1913) and The Devil Doctor (1916). Beginning in 1931, however, Rohmer was persuaded to publish several additional Fu Manchu titles.
***
Let me know if I've missed any 1917 adventures that you particularly admire.