Best 1976 Adventures (6)
By: Joshua Glenn
November 10, 2016
One in a series of 10 posts identifying Josh Glenn's favorite 1976 adventure novels. Happy 40th anniversary!
*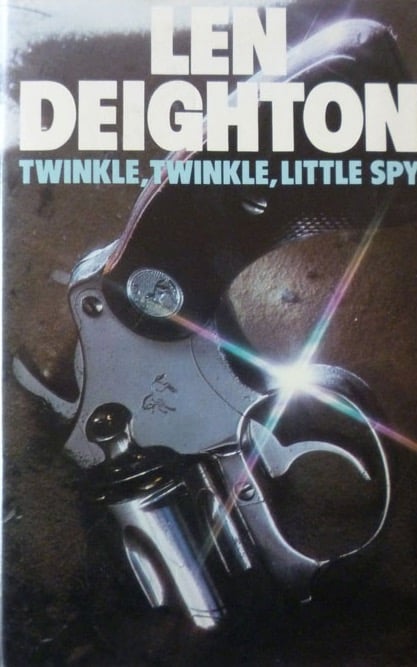 Len Deighton's espionage adventure Twinkle, Twinkle Little Spy.
With the complicity of a Soviet scientist (a kook, who is attempting to establish contact with alien civilizations), the KGB has been stealing scientific secrets from the US government. Major Mann, a CIA blowhard, is sent to the Sahara Desert to take custody of the scientist, who wishes to defect; an unnamed British agent — Harry from The IPCRESS File, or someone else? — accompanies him. Mann notes that their old-fashioned espionage methods are becoming obsolete, thanks to satellite technology; the novel's title is the unnamed British agent's world-weary rejoinder. What starts as a relatively straightforward assignment, though, gets murky; Mann and the British agent end up traveling all over the world. A more action-packed adventure than many of Deighton's spy novels; some of his diehard fans might find it too simplistic, while those who scratch their heads over Deighton's puzzles might particularly like this one.
Fun fact: Also published as Catch a Falling Spy. The final installment in Deighton's "unnamed hero" novels, which include: The IPCRESS File (1962) Horse Under Water (1963), Funeral in Berlin (1964), Billion-Dollar Brain (1966), An Expensive Place to Die (1967), Spy Story (1972), and Yesterday's Spy (1975).
***
Let me know if I've missed any 1976 adventures that you particularly admire.