Best Adventures of 1961 (9)
By: Joshua Glenn
September 13, 2016
One in a series of 10 posts identifying Josh Glenn's favorite 1961 adventure novels. Happy 55th anniversary!
*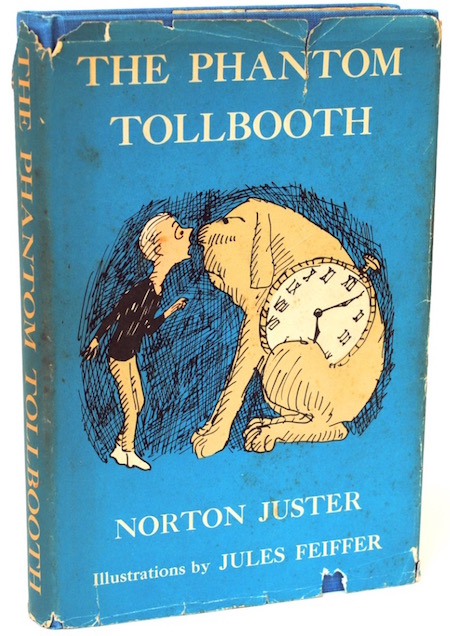 Norton Juster's YA fantasy adventure The Phantom Tollbooth, ill. Jules Feiffer.
On the one hand, The Phantom Tollbooth is a delightful picaresque along the lines of Alice in Wonderland or The Wizard of Oz, about a boy (Milo) who explores a fantasy land in which metaphors have come to life. Milo's companion, the Watchdog, is made of clocks; and because time flies, so can he. When Milo jumps to the Island of Conclusions, he learns a valuable lesson about the inadvisability of doing so. On the other hand, Milo learns so many valuable lessons — and the wordplay is so non-stop — that it's a bit much. Still, who can resist? The land is ruled by the Mathemagician (who rules over the city Digitopolis), and King Azaz the Unabridged (who rules over Dictionopolis); their daughters, the princesses Rhyme and Reason, have been carried away to the Mountains of Ignorance. As he rides to their rescue, Milo encounters creatures like the Awful Dynne, the Whether Man, and Kakofonous Dischord, and learns to be more curious about and attentive to daily life.
Fun fact: In 1970, the great Chuck Jones adapted The Phantom Tollbooth into a musical film. It has its moments, but it leaves much to be desired.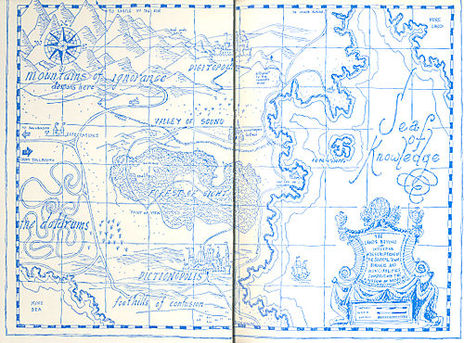 ***
Let me know if I've missed any 1961 adventures that you particularly admire.