Best Adventures of 1956 (4)
By: Joshua Glenn
July 31, 2016
One in a series of 10 posts identifying Josh Glenn's favorite 1956 adventure novels. Happy 60th anniversary!
*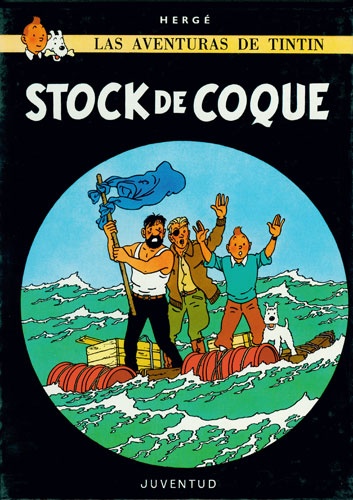 Hergé's Tintin adventure Coke en stock (The Red Sea Sharks, serialized 1956–1958; as an album, 1958).
When Abdullah, the terrifyingly naughty son of Mohammed Ben Kalish Ezab, the Emir of Khemed, turns up at Marlinspike, because his father has been overthrown by Sheikh Bab El Ehr, Tintin and Haddock decide to help restore the Emir to his throne. Flying to the Middle East, however, they narrowly escape being blown up. Then, as they ride on horseback to the Emir's hideout, armoured cars and fighter planes — sent by "Mull Pasha", who is actually Tintin's old nemesis, Dr. Müller — are sent to intercept them. Eventually, Tintin and Haddock learn that Sheikh Bab El Ehr is backed by an oddly familiar businessman, the Marquis di Gorgonzola, who offers transport to African Muslims on the pilgrimage to Mecca… and then sells them into slavery. (Khemed is a key part of Gorgonzola's scheme.) En route to Mecca, their sambuk is attacked by fighter planes; they shoot one down, and rescue its pilot — Piotr Skut, an Estonian mercenary. All of which is just a build-up to their discovery of a shipload of slaves!
Fun fact: Hergé developed the plot for The Red Sea Sharks after reading a piece of investigative journalism about the continuing existence of the slave trade within the Arab world.
***
Let me know if I've missed any 1956 adventures that you particularly admire.