Best Adventures of 1956 (2)
By: Joshua Glenn
July 29, 2016
One in a series of 10 posts identifying Josh Glenn's favorite 1956 adventure novels. Happy 60th anniversary!
*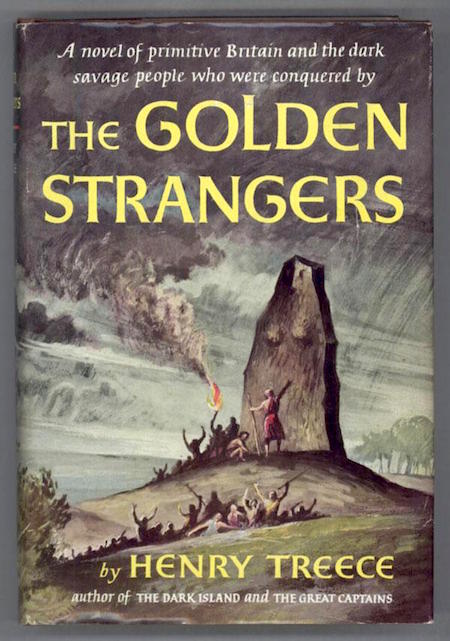 Henry Treece's pre-historical adventure The Golden Strangers.
Garroch, chieftain of a primitive, flint-using tribe of Britons, does his part to sustain the "Barley Dream," a web of ritual and human sacrifice without which his tribe's crops cannot not be made to grow. When the golden strangers — fair-haired Celts, from the continent, bearing metal weapons — attempt to invade, Garroch kills their leader and takes his daughter, Isca, as his bride. Or is Isca, a woman to be reckoned with, manipulating him for purposes of her own? Whose gods, and way of life, will triumph? Rosemary Sutcliff, whose Matter of Britain novels are better remembered today than Treece's, called this "one of the best as well as one of the strangest historical novels I have ever met." Indeed, Treece's short epic combines superstition, magic, and brutal violence; it's both realistic and fantastical.
Fun fact: First title in Treece's Celtic Tetralogy. Treece is best known today for his juvenile historical novels, particularly those set in the Viking age. His other 1956 novel, The Great Captains, is one of the more original retellings of the Arthurian mythos.
***
Let me know if I've missed any 1956 adventures that you particularly admire.