Best Adventures of 1951 (2)
By: Joshua Glenn
July 6, 2016
One in a series of 10 posts identifying Josh Glenn's favorite 1951 adventure novels. Happy 65th anniversary!
*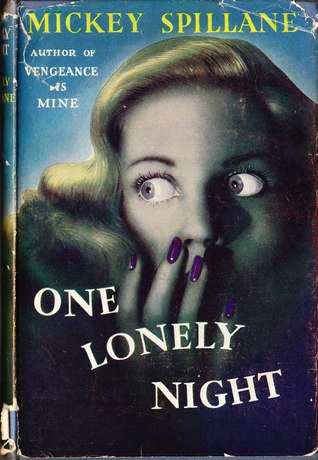 Mickey Spillane's crime adventure One Lonely Night.
Private eye Mike Hammer, a WWII vet suffering from what we'd now diagnose as PTSD (and sociopathy), has just been acquitted of murder — it was self-defense, and the guy had it coming. Walking home from the trial, he gets caught up in an assassination attempt… kills the killer… discovers that he's a Communist Party hitman… and decides to smash New York's Communist conspiracy. He meets a beautiful heiress, who's raising money for the Commies to spite her father. Meanwhile, the criminally insane brother of an up-and-coming politician running on an anti-corruption platform needs to be stopped before he kills again. Are the two plots connected? It's a bit confusing, to be honest. But Spillane is fun to read, because he writes noir at its most grim, twisted, and hopeless. "So I was mad. I was a killer and I was looking forward to killing again. I wanted them all, every one of them from bottom to top… even if I had to go to the Kremlin to do it."
Fun fact: The politician in the novel was inspired by Henry A. Wallace, who left the Democratic Party in 1948 to run unsuccessfully as the nominee of the Progressive Party.
***
Let me know if I've missed any 1951 adventures that you particularly admire.