Best Adventures of 1946 (10)
By: Joshua Glenn
June 14, 2016
One in a series of 10 posts identifying Josh Glenn's favorite 1946 adventure novels. Happy 70th anniversary!
*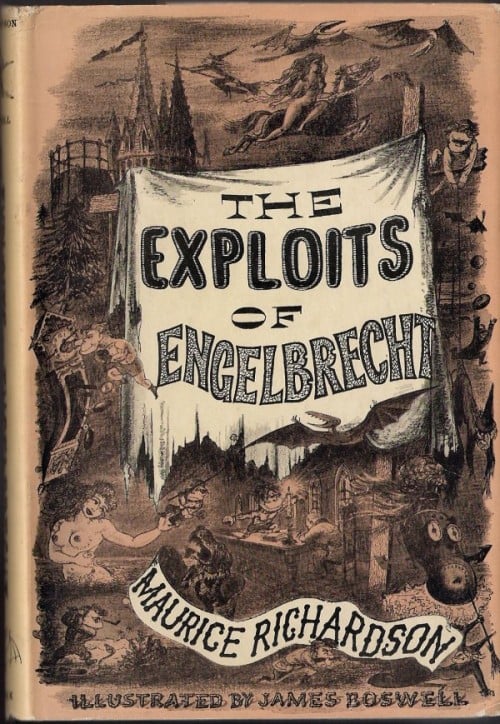 Maurice Richardson's science fantasy adventure The Exploits of Engelbrecht.
Before the universe's imminent collapse, the Surrealist Sportsman's Club intends to see just how far they can stretch the concept of what a "game" is. In fifteen installments, we read about the SSC's ubermensch-like members (Charlie Wapentake, Nodder Forthergill, Willy Warlock, Badger Norridge, Salvador Dalí, Bones Barlow, Monkey Trevelyan, Lizard Bayliss), as well as its far-out contests and competitions. A rugby match between Mars and the human race, say; or a chess game whose pieces are boy scouts and atomic bombsl or hunting politicians and judges with hounds and ghouls. Engelbrecht, the dwarf boxer, is more of a club mascot than a protagonist… but thanks to his indomitable pluck and spirit he frequently gets the other, more cynical sportsmen, out of a pickle. Michael Moorcock was a fan of this book, and his Dancers at the End of Time stories owe a debt to Richardson's imagination.
Fun fact: Published in the British magazine Lilliput, the stories were collected as a book in 1950. "English surrealism at its greatest," claimed J.G. Ballard. "Witty and fantastical, Maurice Richardson was light years ahead of his time."
***
Let me know if I've missed any 1946 adventures that you particularly admire.