10 Best Adventures of 1936 (1)
By: Joshua Glenn
May 5, 2016
One in a series of 10 posts identifying Josh Glenn's favorite 1936 adventure novels. Happy 80th anniversary!
*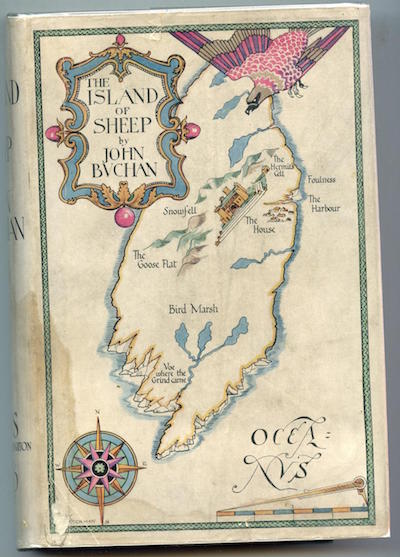 John Buchan's atavistic Richard Hannay adventure The Island of Sheep.
The fifth and final Hannay adventure is partly set in that part of the world about which the author wrote best: the lush, hilly Scottish borderlands. Hooray! Asked to protect the son (Haraldsen) and granddaughter (anna) of an old Nordic friend from a sinister conspiracy, Hannay and his teenage son Peter John, along with Sandy Arbuthnot (whom we first met in the 1916 novel Greenmantle) comes out of retirement. Fending off murderous thugs who seek the secret of a great treasure discovered by Hannay's friend, Hannay and co. wind up on a desolate island in the Faroes, halfway between Iceland and Norway. (The siege and its resolution are reminiscent of Buchan's 1922 novel, Hightower, which was serialized here at HILOBROW.) Peter John and Anna play an important role, in saving the day… but so does mild-mannered Haraldsen, once his berserker Viking heritage is awakened!
Fun fact: A crucial theme of Buchan's late novels, including A Prince of the Captivity (1933) and Sick Heart River (1941), is the search for a sanctuary, an earthly paradise where one feels safe… and where one feels that one truly belongs.
***
Let me know if I've missed any 1936 adventures that you particularly admire.