Best 1931 Adventures (8)
By: Joshua Glenn
April 30, 2016
One in a series of 10 posts identifying Josh Glenn's favorite 1931 adventure novels. Happy 85th anniversary!
*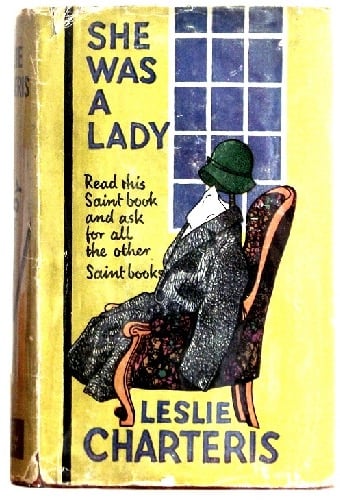 Leslie Charteris's Simon Templar adventure novel She Was a Lady.
In She Was a Lady, the seventh Saint book, Simon Templar is no longer a criminal; in fact, he's working for Scotland Yard. His first mission is to investigate a crime ring — led by Jill Trelawney, a beautiful young woman who has sworn revenge on Scotland Yard — which helps its members evade police dragnets and ambushes. Templar busts up the ring, but then… he and Trelawney team up, and embark on what appears to be a new crime wave. What's going on? Templar and Trelawney — who doesn't seem to be as ruthless and resourceful as we've heard she is; she requires rescuing a few times — are hunting down the men who framed her father (a Scotland Yard bigwig who was dismissed for corruption), and drove her to her life of crime. There's a meta-fictional aspect to this novel that's very pleasing for the contemporary reader: e.g., the Saint is forever comparing himself (favorably) to a storybook hero.
Fun fact: When first published in the United States in 1932, this novel was titled Angels of Doom. But most editions published after 1941 were titled The Saint Meets His Match. Adapted, in 1929, as a film starring George Sanders.
***
Let me know if I've missed any 1931 adventures that you particularly admire.