Best 1931 Adventures (1)
By: Joshua Glenn
April 23, 2016
One in a series of 10 posts identifying Josh Glenn's favorite 1931 adventure novels. Happy 85th anniversary!
*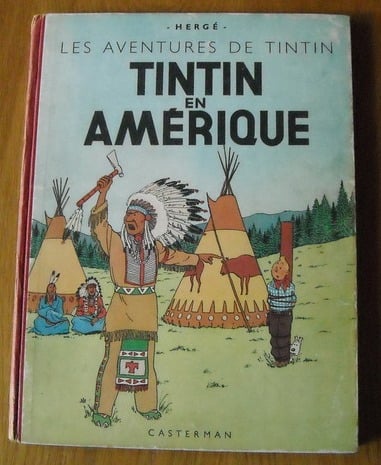 Hergé's bande dessinée adventure Tintin en Amérique (Tintin in America).
In the third volume of The Adventures of Tintin, the young reporter-adventurer and his dog, Snowy, traverse a European fantasy version of America — one populated by murderous Prohibition-era gangsters and primitive Wild West-style Indians. The action is non-stop: Tintin captures members of Al Capone's mob, but corrupt Chicago police let them get away; Capone's rival, Bobby Smiles, attempts to hire Smiles… but Tintin has Smiles's gang arrested. Tintin pursues Smiles to a Midwestern town (offensively named Redskin City), only to be captured by a Blackfoot tribe who plans to execute him. Tintin escapes, evades a lynch mob and a wildfire, and captures Smiles… but then Snowy is kidnapped! What next?
Fun fact: Published as a color album in 1945.
***
Let me know if I've missed any 1931 adventures that you particularly admire.