Best 1926 Adventures (8)
By: Joshua Glenn
March 12, 2016
One in a series of 10 posts identifying Josh Glenn's favorite 1926 adventure novels. Happy 90th anniversary!
*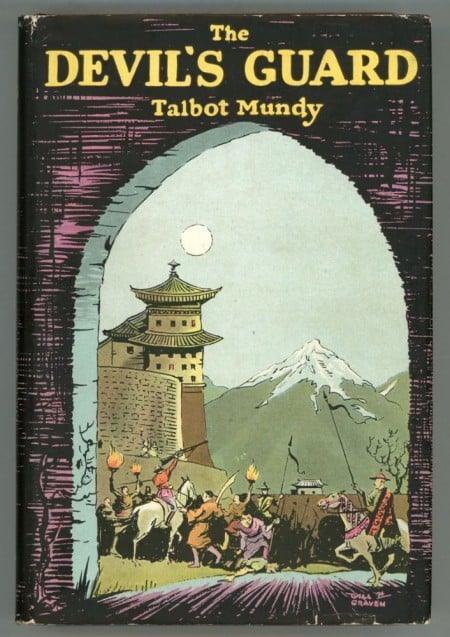 Talbot Mundy's frontier/occult adventure The Devil's Guard (also known as Ramsden).
From 1922–1932, Talbot Mundy serialized several yarns — in the pulp magazine Adventure — about James Grim, an adventurer known as "Jimgrim." Unlike Rider Haggard's and Kipling's imperialist protagonists, as an American, Jimgrim believes in self-rule for colonized countries; he is particularly committed to Arab independence. Having left the British service to form the agency of Grim, Ramsden, and Ross, he devotes himself to doing good in Egypt, then India and the Far East. In The Devil's Guard, Jimgrim & co. go to Tibet searching for the legendary Sham-bha-la. Along the way, he encounters adepts from two mystical orders — a White Lodge devoted to good, and a Black Lodge devoted to evil. An adventure of the soul, the story involves both a grueling journey through the Himalayas and a quest for ancient spiritual wisdom.
Fun fact: The Devil's Guard, which directly inspired the Black Lodge/White Lodge mythos of Twin Peaks, is part of a tetralogy that began with Caves of Terror (1922), continued with The Nine Unknown (1923) and would end in 1930 with Jimgrim. There are also a number of Jimgrim short stories. Mundy, a Theosophist, has been called "the philosopher of adventure."
***
Let me know if I've missed any 1926 adventures that you particularly admire.