Best 1921 Adventures (10)
By: Joshua Glenn
February 15, 2016
One in a series of 10 posts identifying Josh Glenn's favorite 1921 adventure novels. Happy 95th anniversary!
*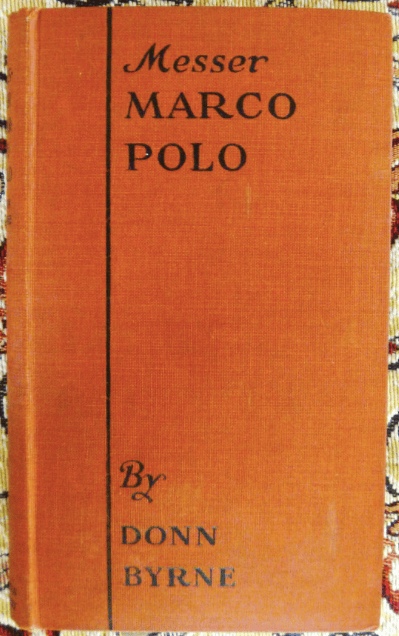 Brian Oswald Donn-Byrne's frontier adventure Messer Marco Polo.
An elderly Scotch-Irish bard — in modern times — tells a lively tale, to his young American nephew, about Marco Polo, an Italian Catholic explorer journeying across Asia from Venice to the courts of Cathay in pagan China, during the High Middle Ages. Though sent as a kind of missionary — after an audience with an Irish pope — when Marco Polo visits the court of Kubla Kahn, the Mongol ruler and emperor of China, he falls in love with Golden Bells, daugher of the Khan. Their love story is lyrical and sweet, but the book is very much an adventure, too. The caravan is lost in the Gobi Desert; there is murder and witchery. And the amused politeness with which Marco Polo's preaching is met is wicked!
Fun fact: Often categorized as a children's book, but in fact it's Menippean satire. The multi-layered, historical/fantastical, ironic/romantic quality of this yarn brings to mind Donn-Byrne's contemporary, James Branch Cabell, who called this "a very magically beautiful book"; as well as Flann O'Brien's At Swim-Two-Birds or William Goldman's The Princess Bride. Donn-Byrne died tragically young, in 1928, in an automobile accident.
***
Let me know if I've missed any 1921 adventures that you particularly admire.