Best 1921 Adventures (6)
By: Joshua Glenn
February 11, 2016
One in a series of 10 posts identifying Josh Glenn's favorite 1921 adventure novels. Happy 95th anniversary!
*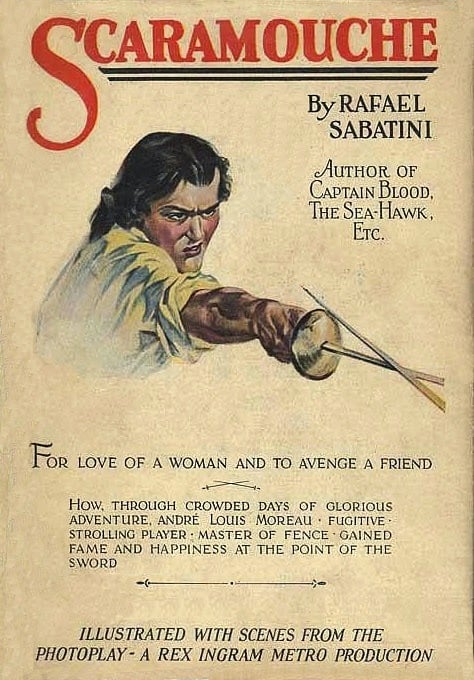 Rafael Sabatini's historical adventure Scaramouche.
When a cynical young Breton lawyer, Andre-Louis Moreau, denounces the aristocracy — this is shortly before the outbreak of the French Revolution — in front of a riled-up crowd, he becomes a wanted man. He joins a troupe of travelling Commedia dell'Arte actors, assuming the stock character of Scaramouche — a scheming rogue who clownishly burlesques his aristocratic superiors. However, Moreau's true identity is discovered and he is forced to go into hiding. He bluffs his way into an apprenticeship with the Master of Arms at a fencing academy — and, over time, he becomes a dangerously skillful swordsman. During the Revolution, Moreau emerges from hiding and goes into politics… he has become an idealist! However, he must fight a duel to the death with an old adversary.
Fun fact: Scaramouche was worldwide bestseller for Sabatini, rivaled only by his other adventures, including The Sea Hawk (1915) and Captain Blood (1922). The novel was adapted into a 1923 swashbuckling movie starring Ramón Novarro.
***
Let me know if I've missed any 1921 adventures that you particularly admire.